All tours are fully customizable to your requirements
Cultural Delights of Vietnam
We crafted this particular tour for travelers desiring an in-depth experience of the real Vietnam, from the rural highlands in the far north near the Chinese border, to the spectacular beauty of Halong Bay, the delights of colonial Vietnam and the modern cities of Hanoi and Saigon. Convenient flights and luxury overnight trains make getting around simple and efficient.
ITINERARY
Day 1 - Hanoi City Tour
Day 2 - Halong Bay Cruise
Day 3 - Halong Bay Cruise
Day 4 - Ninh Binh
Day 5 - Sapa
Day 6 - Lao Cai & Bac Ha
Day 7 - Sa Pa, Overnight train to Hanoi
Day 8 - Hue
Day 9 - Hoi An
Day 10 - Nha Trang
Day 11 - Nha Trang
Day 12 - Saigon
Day 13 - Saigon
Day 14 - Mekong Delta
Day 15 - Fly Home or Extend Your Trip
Detailed Itinerary
Day 1 - Welcome to Vietnam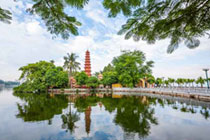 Today you will enjoy a private, guided tour around the city, beginning with a visit to the Temple of Literature, with its peaceful walled courtyards and graceful gateways. From here you'll continue to the One Pillar Pagoda and the nearby Ho Chi Minh Memorial complex.
After visiting the Opera House and St Joseph's Cathedral, you'll then see Hoan Kiem Lake, in the heart of the city. This is a peaceful lake that contains an island that's home to the tiny Tortoise Pagoda. From here you'll walk to the nearby Old Quarter, a fascinating area of narrow alleys and historic shop houses before returning to your hotel to spend the evening at your leisure.
Day 2 - Halong Bay Cruise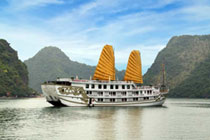 This morning you will be escorted to Halong Bay by private vehicle. During the approximate three hour drive you will have an introduction to the rural countryside of northern Vietnam, a taste of what lies ahead. have an unforgettable experience visiting Halong Bay. This is an area of spectacular natural beauty, best enjoyed from the deck of a traditional wooden boat, as you cruise through the thousands of craggy limestone islands, caves and cliffs. Make sure you have plenty of memory on your camera as the area is incredibly picturesque and photogenic. You will board your boat around lunchtime, enjoying a typical Vietnamese lunch on board. This afternoon kayak or travel by traditional bamboo boat around Cua Van Floating Village and take some time for a refreshing swim at a deserted beach. Dinner will be served on board.
Day 3 - Halong Bay Cruise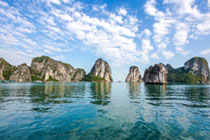 Start the morning bright and early with a Tai Chi class on board. After breakfast you will visit Titov Island, where you'll have an hour or so to hike to the peak for incredible 360 degree views over the bay. You'll then cruise back to Halong Bay disembarking late morning.
Your guide will meet you as you step off the boat and escort you to Ninh Binh by private vehicle (approx. 110 miles).
Day 4 - Ninh Binh Tour, Overnight Train to Sapa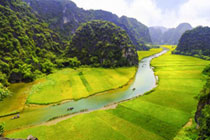 Just outside town is Trang An, a spectacularly beautiful area, known for its limestone ranges, valleys, caves and rivers, as well as the Vuc Vong Temple and Khong residence. Your tour will be on a small, hand rowed sampan, and will begin along green waterways. Continue to Hoa Lu, the birthplace of the Vietnamese nation. In the 10th century, it was here that the first capital was established.
Today only the foundations remain of the original palace, but visitors can still see two temples, Dinh Tien Hoan Temple and Le Dai Hanh Temple, dedicated to the rulers of the first two dynasties of the nation. These temples are beautiful, with traditional courtyards and lily ponds, set among the dramatic rice paddies and karst formations of the area.
Following your tour, you will transfer by private vehicle to Hanoi's train station for your overnight luxury train to Sapa.
Day 5 - Lao Cai - Bac Ha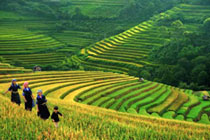 Disembarking the train, you'll by vehicle to Bac Ha, close to the Chinese border and maybe stop to visit the vibrant Can Cau market (Sunday only). Take the opportunity to interact with the Flower H'mong minority, known for their colorful dresses. This afternoon, enjoy a short trek through the beautiful mountain countryside around Bac Ha. You'll also visit the Pho village as well as more colorful Flower H'mong and Tay villages before returning to Bac Ha for an overnight stay.
Day 6 - Bac Ha - Sa Pa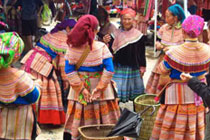 This morning you will visit the vibrant and colorful market of Bac Ha, where ethnic minority groups from around the area come to trade their livestock and handicrafts. Try your hand at bargaining for a unique hand made souvenir of your visit here. You'll return to Sa Pa by vehicle as you admire the beautiful highland scenery, home to many ethnic tribal groups, each with its own identity, language and culture.
Day 7 - Sa Pa, Overnight train to Hanoi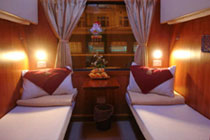 After driving from Sa Pa to the village of Lao Chai, you will begin your easy hike, visiting the Dzay and H'mong people and learning about their culture and daily life. Traveling back to Sa Pa, you'll have opportunities to stop and admire the spectacular scenery of terraced rice paddies, bamboo forests and waterfalls that make this region such a delight to explore.
This evening you'll board your luxurious sleeper train back to Hanoi, arriving early the next morning.
Day 8 - Hue City Tour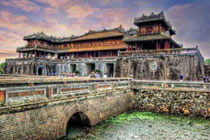 Enjoy the rest of the day at your leisure, relaxing at your hotel's pool or sampling some of the fine cuisine in the many nearby restaurants.
Hue was established in the 17th Century and was the capital of Vietnam for 140 years. This morning you will enjoy a leisurely boat ride down the Perfume River, passing the beautiful Thien Mu Pagoda, an iconic octagonal tower, and Hue's most iconic monument. You'll continue cruising into the countryside to visit the Imperial Tomb of Minh Mang, a graceful complex of temples, pavilions, lotus ponds and courtyards. This afternoon you will visit the Royal Antiquities Museum before checking in to your hotel for an overnight stay.
Day 9 - Hoi An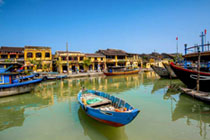 This morning you will experience one of Vietnam's most beautiful drives along the scenic coastal road to Hoi An, crossing the dramatic Hai Van Pass, Lang Co - a lovely stretch of beach between the sea and a clear blue lagoon.
Hoi An is one of Vietnam's loveliest towns. Today's waking tour will cover the main highlights, including the Japanese Covered Bridge, constructed in 1593, the Cham Museum, with its display of over 300 intricate sculptures, the Phuoc Kie, a Chinese Pagoda dating from 1690 and a local lantern workshop to learn about how traditional Vietnamese lantern are made. The entire town is a living history museum and a delightful place to walk around.
Day 10 - Fly to Nha Trang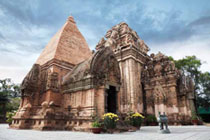 After breakfast in your hotel you will drive to Danang airport (approx. 25 miles) for your flight to Cam Ranh Bay, where you will be met by your guide and escorted to your hotel by private vehicle. Enjoy the rest of the day as you please on the beautiful beaches of Nha Trang.
Day 11 - At Leisure in Nha Trang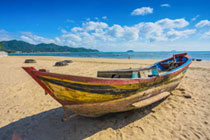 Spend the day at your leisure on the beach or explore the interesting nearby town of Nha Trang.
Day 12 - Saigon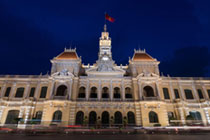 This morning you will be escorted to Cam Ranh Bay airport for your short flight to Saigon. After checking in to your hotel you will have some time at leisure before enjoying tonight's A O Show at the Saigon Opera House - an interesting mix of old and new, combining elements of Vietnamese music, dance and Cirque du Soleil. During the one-hour show the artists will perform a variety of feats ranging from traveling across the stage in human-sized baskets to making bamboo/human bridges. It's a fascinating performance and makes for a fun night out.
Day 13 - Saigon Tour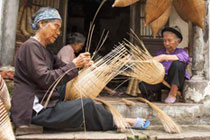 The largest city in Vietnam, Saigon, also known as Ho Chi Minh City is a vibrant place, full of energy. Wherever you look, you'll see a mix of old and new. This morning you'll begin with a tour of the historic center, walking along Dong Khoi Street, the main shopping thoroughfare and the heart of colonial Saigon. After visiting the Hotel de Ville (City Hall) the Opera House and the Cathedral, you'll delve into modern history with a tour of the Reunification Palace. This building was famously stormed on April 30th, 1975 signifying the fall of South Vietnam.
This afternoon you'll visit the harrowing War Remnants museum, a sobering place documenting the Vietnam War (called the American War here). Visiting here is a powerful experience and guaranteed to provoke strong emotions. A stop at the Emperor of Jade Pagoda, one of Saigon's most interesting follows, before heading to Cholon (Chinatown) for a walk through Soai Kinh Lam Market. You'll end the tour at the central Ben Thanh Market, where vendors display a dazzling array of goods and handicrafts and where you can also sample some of the best and cheapest street food in the city.
Day 14 - Mekong Delta Tour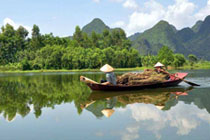 On today's memorable tour you will experience rural life on the Mekong Delta. After a journey through Ben Luc and Tan An, you'll proceed to Ben Tre to take a boat trip on the Mekong River to the Vam Xep canal where you'll learn first-hand about the production of local handicrafts and coconut sweets. Here, you'll enjoy fresh seasonal fruits, a performance of traditional songs, and have the opportunity to observe local life.
Take a short ride on motor cart to a typical local house to taste some homemade honey-tea, before proceeding by sampan through the small canals to observe the daily life of local people along the riverbanks with some stops for a leisurely stroll.
Day 15 - Fly Home or Extend Your Trip
This morning you'll be escorted by private vehicle to Saigon's international airport for your flight home or to another fascinating part of Asia.
Hotels listed below are given as suggestions only to illustrate the standard of hotels used.
Hanoi - Sofitel Legend Metropole (5 star - Deluxe)
One of the city's most luxurious hotels, the Sofitel Legend Metropole was constructed in 1901. Boasting a century long tradition of hospitality for heads of state, ambassadors and other dignified people, the hotel prides itself on service. It is located in the heart of the city and offers 363 luxuriously furnished rooms and suites, providing all amenities one would expect from a world-class luxury hotel.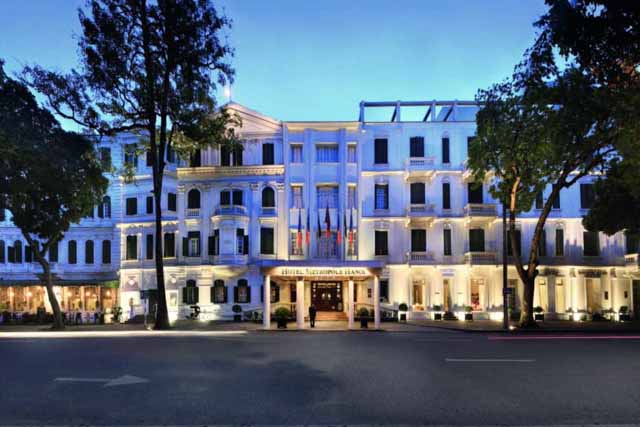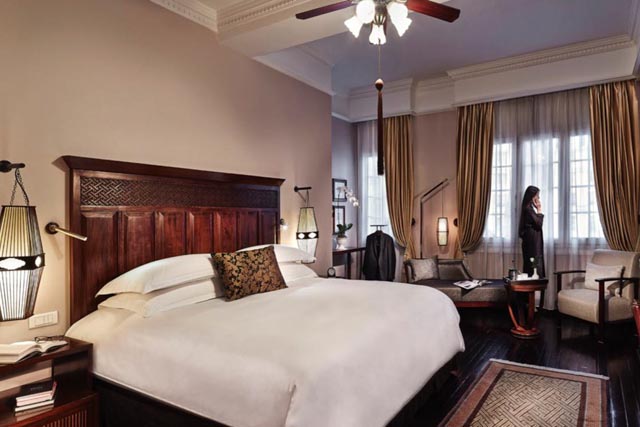 Hanoi - Mercure Hanoi La Gare (4 star - Luxury)
The Mercure La Gare is centrally located opposite the railway station, within easy walking distance to the Old Quarter and is a relaxing oasis in the bustling city center. The 102 spacious and contemporary rooms have all been recently refurbished, some featuring stylish, open-plan bathrooms. The hotel's restaurant, a French brasserie, offers a varied menu of French and Vietnamese contemporary cuisine.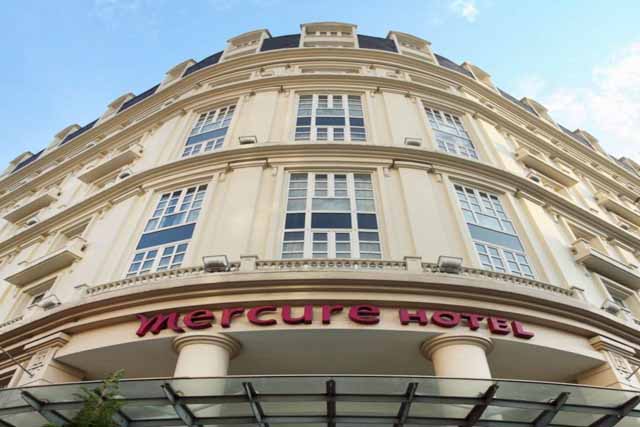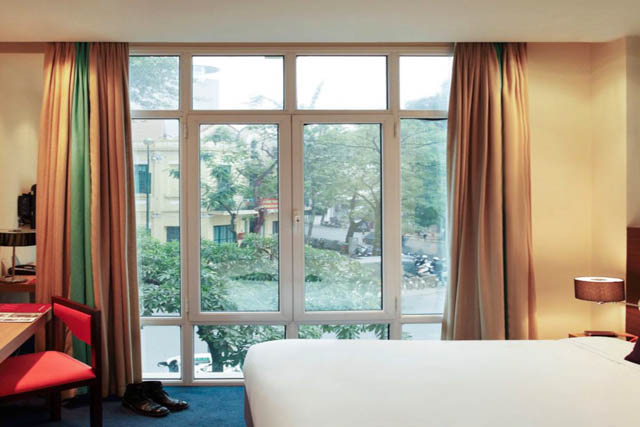 Halong Bay Cruise - Paradise Cruise (5 star - Deluxe)
Paradise operates 4 vessels built in the traditional style of a junk, and lavishly outfitted with 17 luxurious suites on each vessel. All feature large picture windows, individually adjustable air-conditioning, private bathrooms and very comfortable beds. Each boasts a gourmet restaurant on board, as well as being the only vessels in Halong Bay to provide complete spa facilities.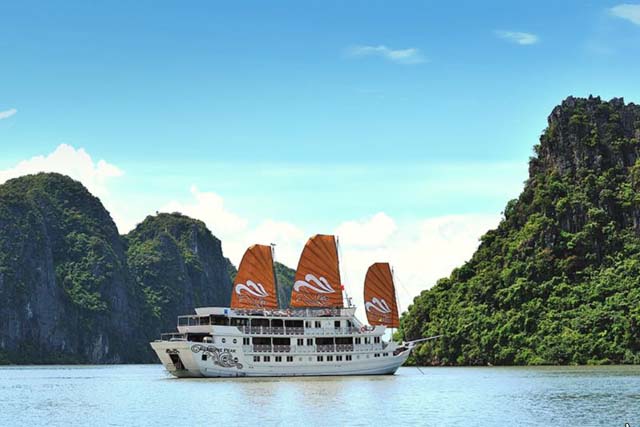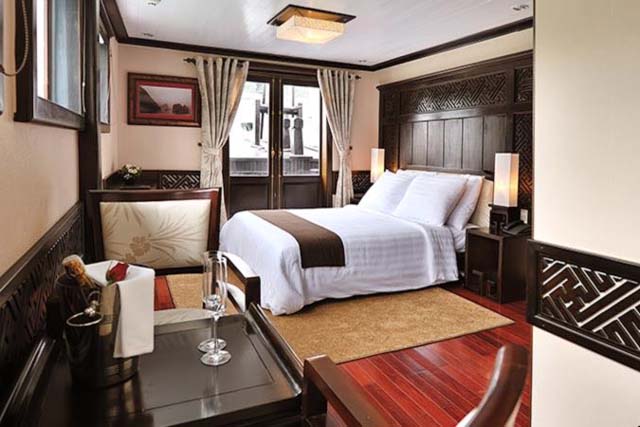 Halong Bay Cruise - Pelican Cruise (4 star - Luxury)
Pelican offers three boats, each featuring 22 modern and stylishly furnished cabins. Each cabin features air-conditioning, private bathroom, large picture windows and all the comforts of a 4 star hotel on the water. On board amenities include a gourmet restaurant and top deck sun lounge.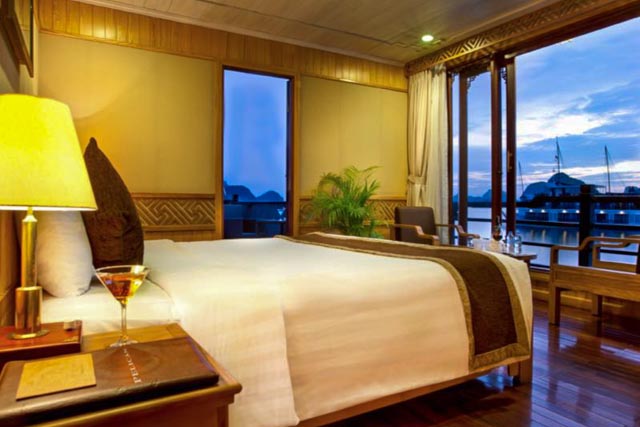 Ninh Binh - Emeralda Ninh Binh (5 star - Deluxe)

Located in a beautiful area surrounded by rice paddies, quiet villages and incredible limestone karsts, the Emeralda Ninh Binh is the leading luxury hotel in the area. With 170 spacious villa-style rooms, decorated with local artwork and furnished with local wood, the hotel is the perfect base for exploring this fascinating region.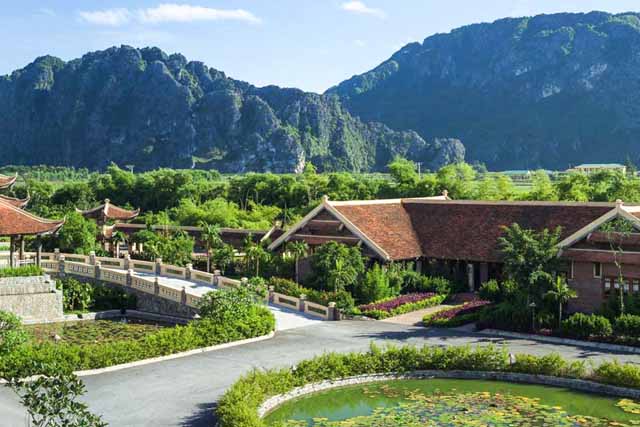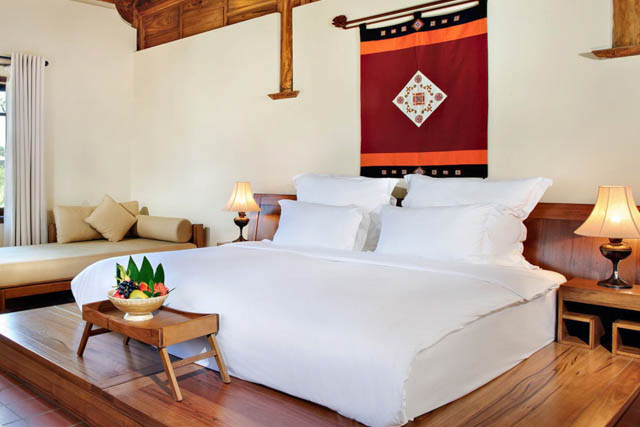 Ninh Binh - TLegend Hotel (4 star - Luxury)

Designed in a style typical of the French influence in Vietnam, the Ninh Binh Legend hotel offers 110 quiet, modern and comfortable rooms in an 11 storey building. It's close to many of the well-known sights in Ninh Binh. Guest rooms average over 400 square feet in size and are bright and comfortable. Traditional Vietnamese cuisine is served in the hotel's restaurant.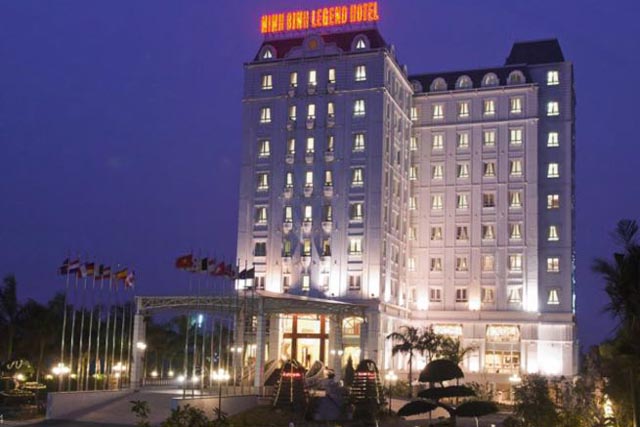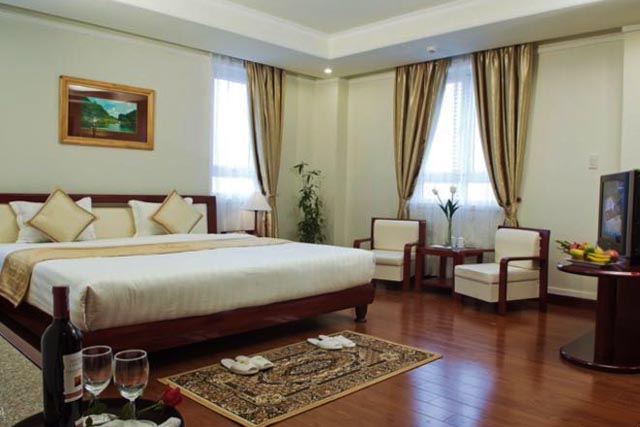 Sapa - Chau Long Sapa Hotel (3.5 star - Mid Range)

This 65 room hotel is perched atop a hill with spectacular views of the surrounding mountains and forests. Within walking distance to the town's market, the hotel offers an excellent location, as well as comfortable rooms with balcony.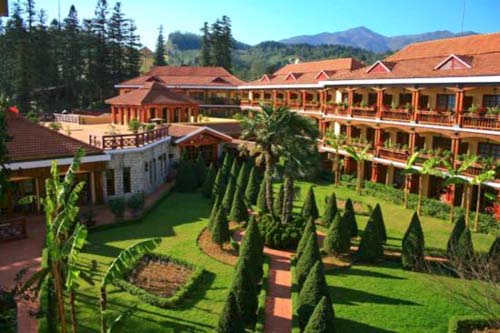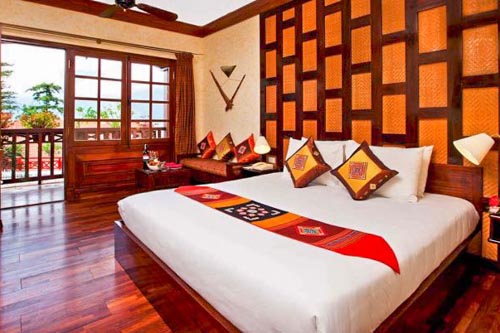 Hue - La Residence Hue (5 star - Deluxe)

A stay at La Residence allows you to step back in time to when this hotel was the home of the French Colonial Governor. Painstakingly restored and reopened as a luxury hotel, the hotel features 1930s era style of art deco architecture. Each of the 122 luxuriously finished rooms offers high ceilings, terrazzo floors along with modern conveniences. This is a lovely hotel and your stay here is sure to be a memorable one.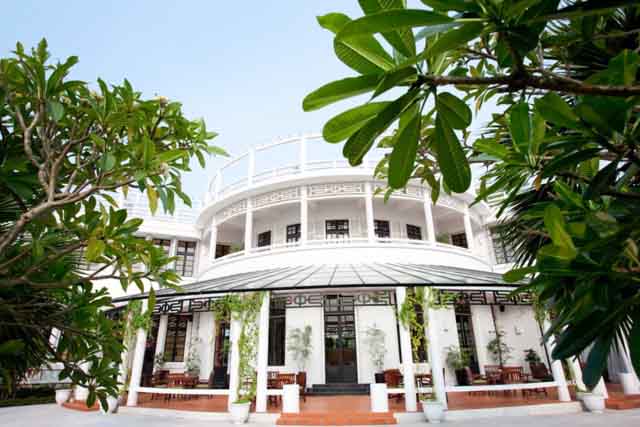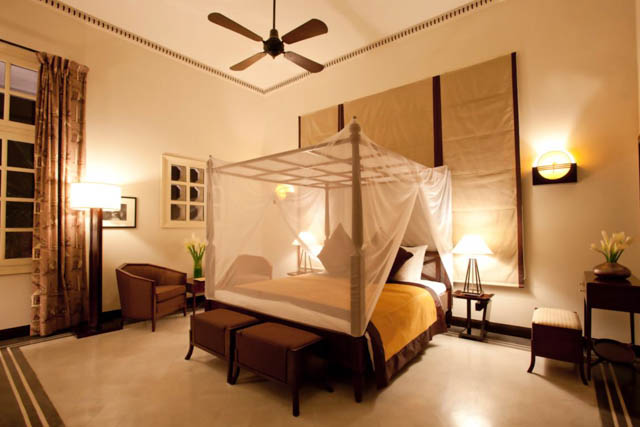 Hue - Muong Thanh (4 star - Luxury)

Located in the city center on the banks of the Perfume River, the Muong Thanh Hotel offers a combination of modern architecture combined with decor in the style of the Hue Royal Court. Guest rooms, many of which feature uninterrupted river views are bright and modern. The hotel also offers a choice of four restaurants for your convenience.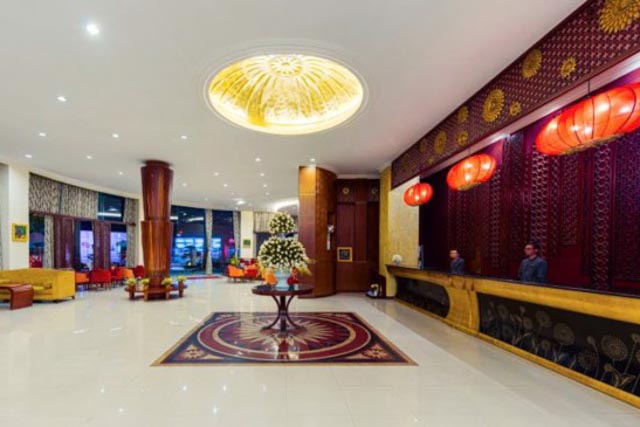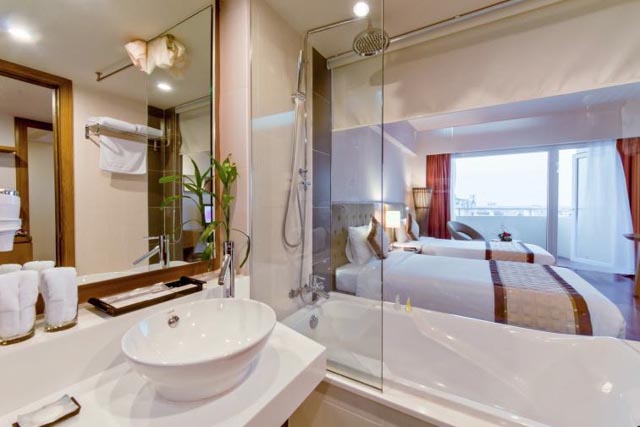 Hoi An - Sunrise Beach Resort (5 star - Deluxe)

Hoi An's Sunrise Beach Resort is a beautiful property located beachfront, 10 minutes' drive from the center of town. With modern and stylish luxury accommodations, all rooms feature views over the South China Sea and bright, modern bathrooms. The hotel offers three restaurants serving fresh seafood and Vietnamese delicacies.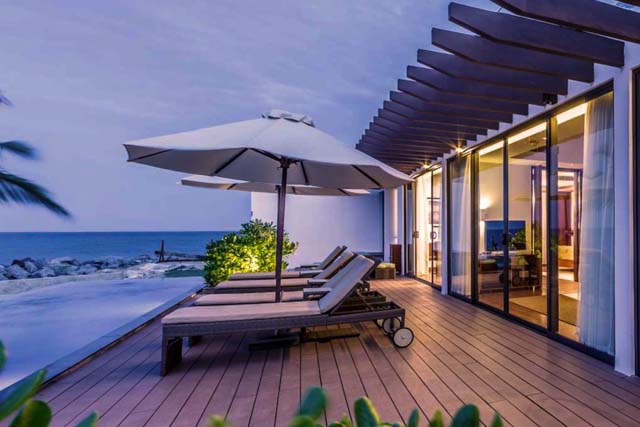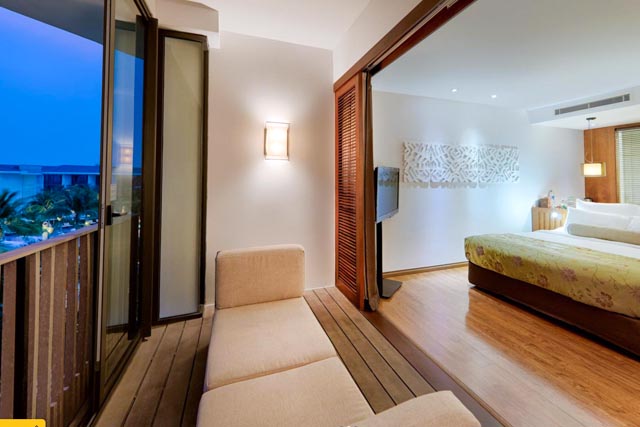 Hoi An Trails Resort (4 star - Luxury)

Located in a tranquil village setting on the banks of the Thu Bon River not far from the center of town, the Hoi An Trails Resort offers bright and modern accommodations in a tropical garden setting. Rooms overlook tropical foliage and feature private balconies and all comforts one would expect from a 4-star hotel.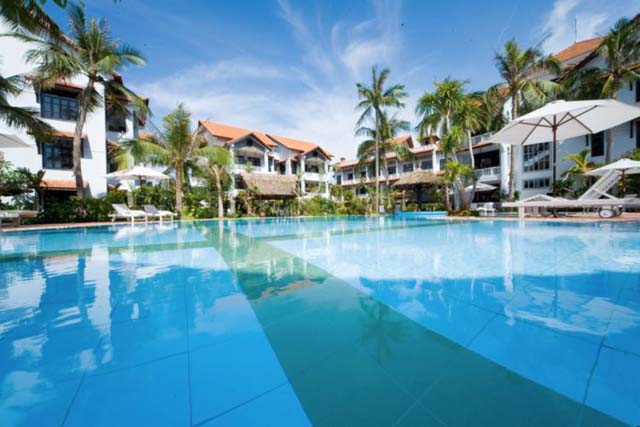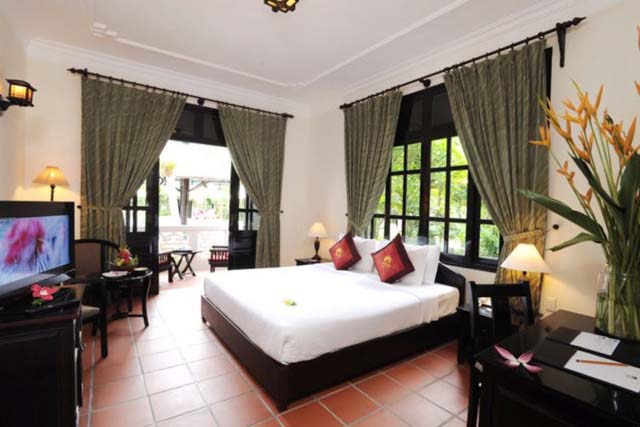 Nha Trang - Mia Resort (5 stars - Deluxe)

Nha Trang's Mia Resort was designed to offer contemporary, luxurious accommodations on one of Vietnam's finest beaches. Rooms and villas overlook either the beach or the hotel's lush, manicured gardens and are all elegantly decorated with natural materials and luxurious amenities. Large patios offer comfortable private areas for relaxation, and the hotel's restaurant prides itself on being one of the best in Vietnam.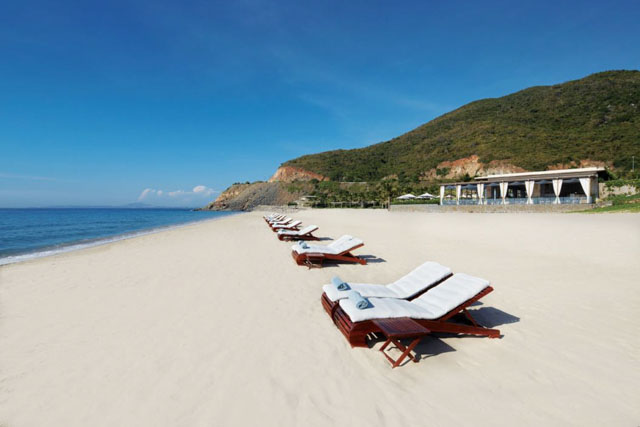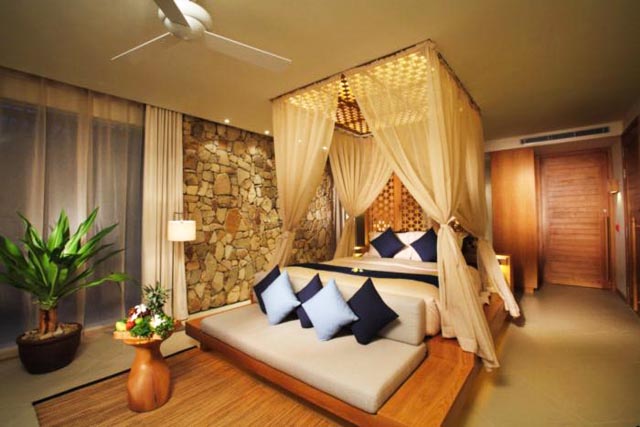 Nha Trang - Diamond Bay Resort (4 star - Luxury)

Located on 14 acres of beachfront land, a short drive from the center of Nha Trang, the Diamond Bay offers 340 rooms and bungalows, all offering a tasteful blend of Vietnamese and contemporary design. Rooms offer either garden or beach views and feature private balconies and bright, modern style.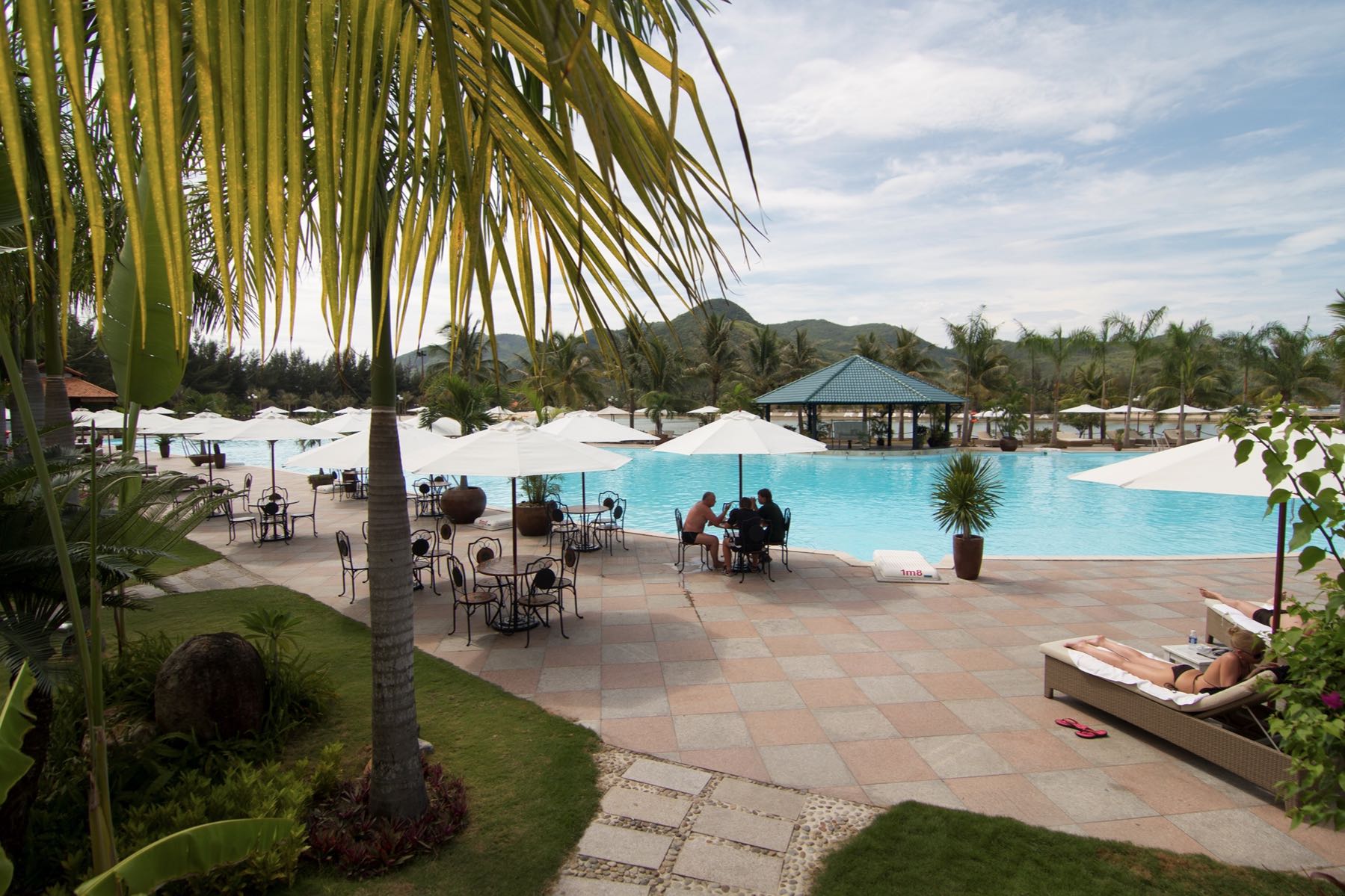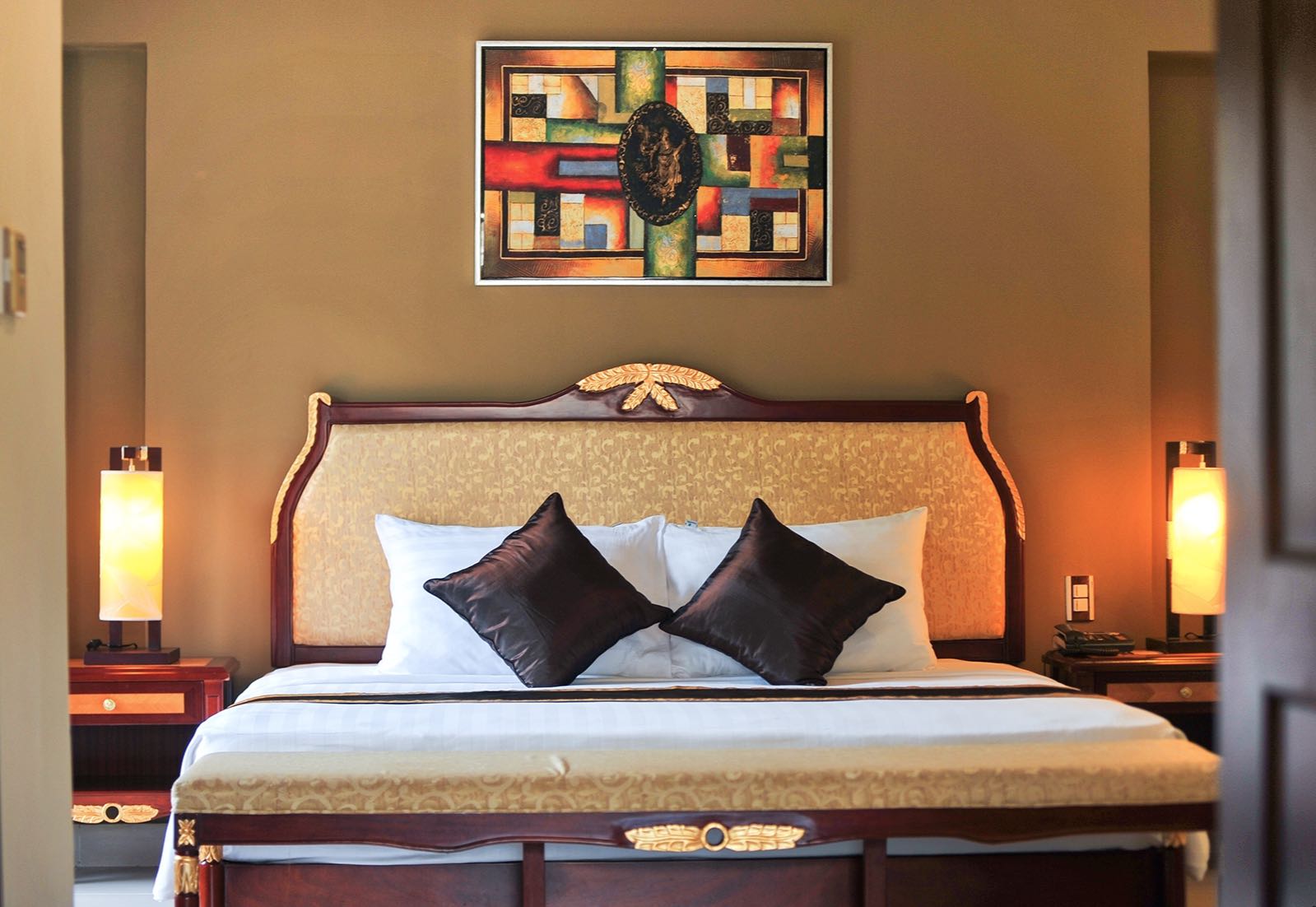 Saigon (Ho Chi Minh City) - Park Hyatt (5 star - Deluxe)

Centrally located on Lam Son Square in the heart of the historic district, the Park Hyatt is Saigon's premier luxury hotel. The hotel reopened after a complete overhaul in 2015 and has a wonderfully fresh look that blends perfectly with its signature French colonial style. The 245 renovated rooms and suites are decorated with lighter tones, locally sourced, handcrafted furniture and local art. All rooms feature modern amenities like Nespresso machines and iPod docks and the hotel's service is second to none.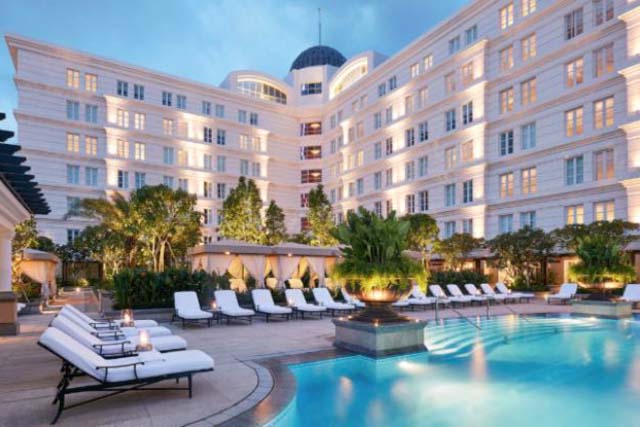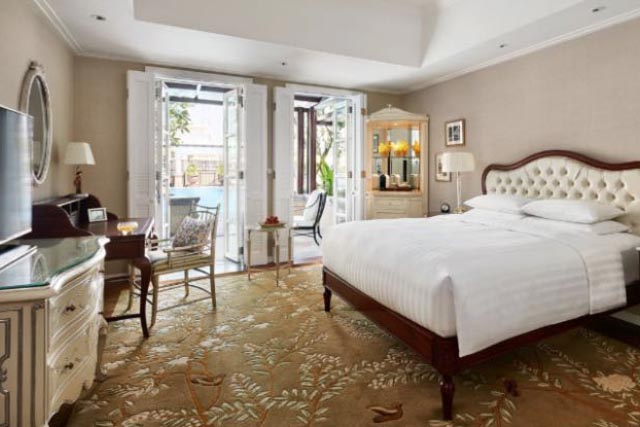 Saigon Liberty Central Hotel (4 star - Luxury)

The centrally located Liberty Hotel has easy access to the Cathedral, the city's main museums and shopping. The 247 guestrooms feature a modern, contemporary style and stunning views over the city. All are bright and stylish, featuring modern bathrooms. The hotel has an international restaurant with an open kitchen concept, as well as a lobby bar with an outdoor terrace and a stylish rooftop bar with outside terrace, perfect for a nightcap 20 floors above the busy streets.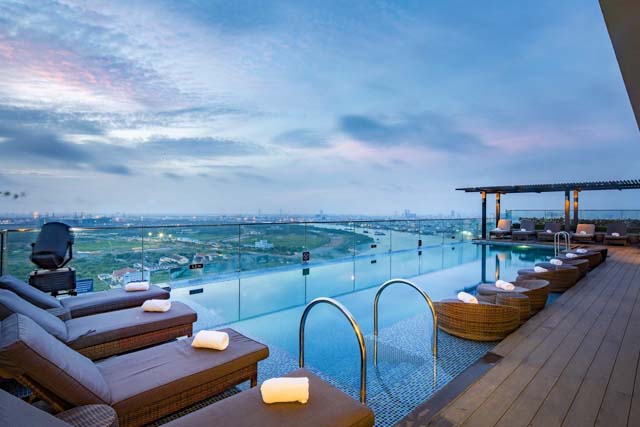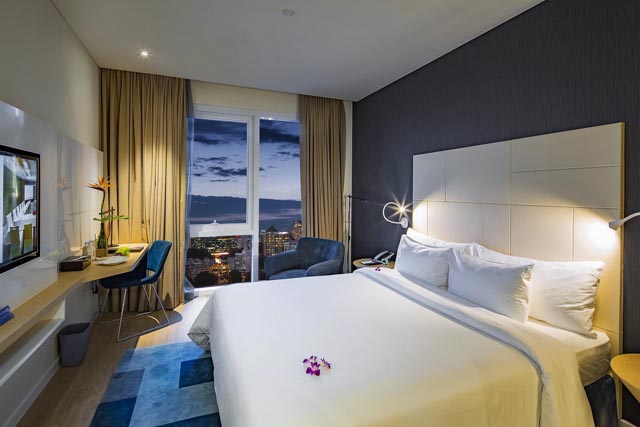 Optional Extensions
Tropical Beaches in Thailand or the Philippines (3-7 days)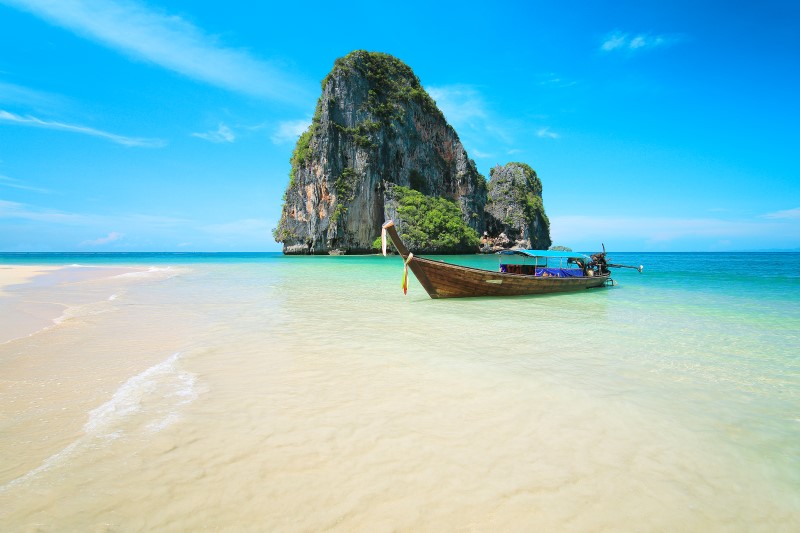 Thailand and the Philippines are home to some of the most spectacular beaches in the world. A few days relaxing on an unspoiled, idyllic, powder-soft, white sand beach is the perfect way to end a busy tour around southeast Asia. Snorkel, SCUBA dive, visit uninhabited paradise islands by boat, or simply relax poolside at your luxury hotel as you contemplate the stunning turquoise water, while you enjoy the freshest seafood you've ever eaten at a fraction of the price you'd pay at home.
Bangkok (3-4 days)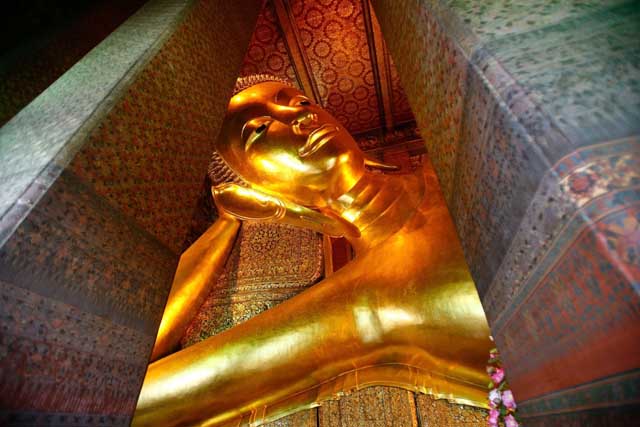 Thailand's capital and one of the most exciting cities in Asia, Bangkok is a real feast for the senses. It is one of the most confounding and chaotic, yet most rewarding cities in the world to visit. From the royal core of the city and its Grand Palace to the busy Chao Phraya River slicing through it, the incredible and exquisite historical temples and monuments, to the congested streets, lined with the best street food in the world, it's exotic and mesmerizing at every turn.
Hong Kong (3-4 days)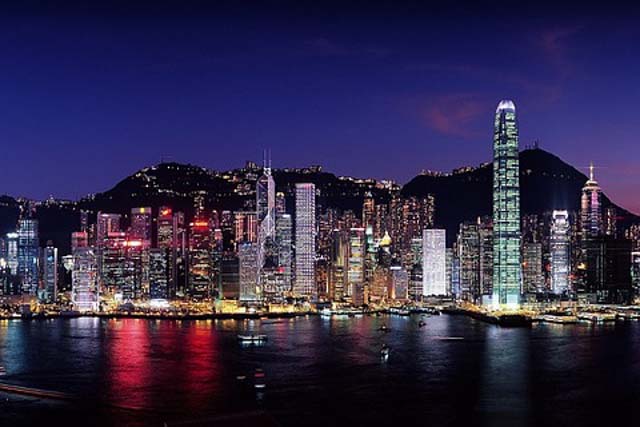 Hong Kong is an enigma. A city of modern, glass towers, cosmopolitan cuisine, home to one of the world's largest financial centers, and one of the world's most modern, efficient transport systems; it's also home to quiet villages and idyllic beaches not far from the chaos of the city. The food here is amazing, and the views - whether from the deck of the world-famous Star Ferry crossing Victoria Harbour (the best 25 cent ticket you'll ever buy), or from the lofty heights of Victoria Peak are simply sublime.
Singapore (3 days)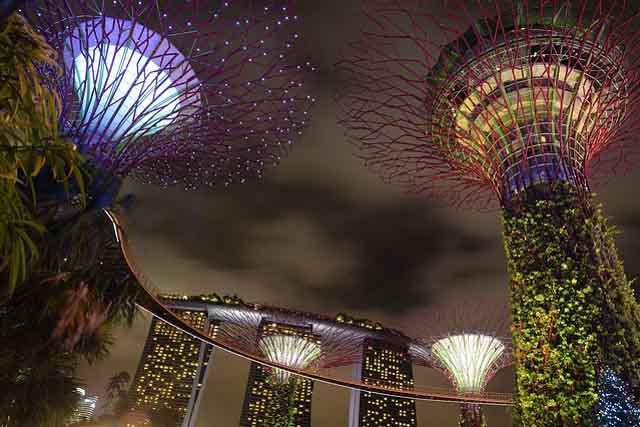 Unlike any other city, Singapore is a mix of traditional Malay, Chinese and Indian cultures, harmoniously blended with the cutting-edge, ultra-modern style of the most modern cities in the world. Immaculately clean, tidy, efficient and organized, with some of the best food offerings in the world, from simple 'hawker' stalls to Michelin starred restaurants, it's a great place to spend a few days. With international non-stop flights all over the world, it's also the most easily accessible city in south east Asia.
Fully guided, private tours are priced from:
Luxury - US$4095 per person (4 star hotels)
Deluxe - US$4595 per person (5 star hotels)
Ultra-Luxe - US$5795 per person (best available hotels, business/first class flights)
Prices are per person, based on two people sharing a double room in low season.
Hotels listed on the Hotels Tab are given as suggestions only to illustrate the standard of hotels used.
Price Includes:
All hotels as described in the itinerary
Services of our representatives while in Vietnam
Flights:
Hanoi to Hue
Hue to Nha Trang
Nha Trang to Saigon
Private transportation and private tours as described in the itinerary in air-conditioned vehicles
Sightseeing and entrance fees
Meals as described in the itinerary

Price Excludes:
International flights
Travel insurance
Meals other than those listed in the itinerary
Gratuities for guides and drivers
Sightseeing other than described in the itinerary
Additional room charges of a personal nature in hotels (eg: room service, laundry, phone calls, etc.)