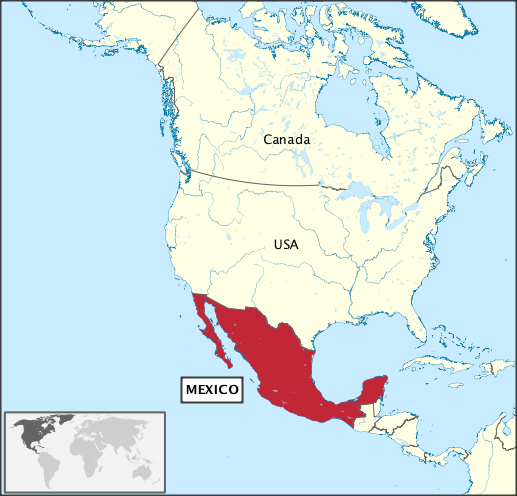 Mexico needs little introduction, however we feel it is one of the most misunderstood countries in the world.  Famous for its beach resorts and infamous for its struggle with the drugs trade, most people think of little else when they think of the country.   We will show you a Mexico most people never knew existed – a magical, enchanting land of indigenous villages, stunning colonial cities, ancient ruins hidden deep in the steaming jungle, spectacular natural wonders and a warm, hospitable, proud and friendly people.
The country is full of history.  The pre-Hispanic civilizations were sophisticated, intelligent people who left behind hundreds of ruined cities, a visit to any one of which is a highlight of any trip to Mexico. Spanish colonization lasting over 300 years left an indelible mark on the country, represented today by dozens of beautiful colonial cities full of delightful, shaded plazas, spectacular stone churches and lovingly restored buildings and monuments.
Mexico is packed with culture, fiestas and celebrations, deep-rooted traditions, delicious food and world-class museums and galleries, all combining to create a joy to your senses.
We have carefully selected three regions of Mexico, which we believe showcase the finest in culture, history, nature and colonial charm.
The southern state of Chiapas is an ecotourism paradise to travel, where lush, jungle clad mountains hide remnants of ancient pre-Hispanic cities and beautiful colonial towns thrive in the fresh, clear highland air.  This is without a doubt Mexico's most deeply rooted indigenous state and is a paradise for travelers with an adventurous spirit and a desire to experience some of Mexico's most spectacular natural beauty of stunning mountainous landscapes, luxuriant, tropical jungles, steaming volcanoes, thundering waterfalls and whitewater canyons without sacrificing comfort, staying in unique and luxurious boutique hotels.
The state of Oaxaca is home to the charming highland colonial city of the same name, and is an absolute delight to visit.  It has a beautiful colonial core of lovely tree-lined streets and is one of Mexico's most captivating cities.  The surrounding villages each have a market day where people from nearby, more remote villages come to sell their produce.  A visit to one of these is an experience not to be missed as your senses are bombarded with colors, sounds, smells and indigenous languages in a scene that has been going on for over a thousand years.  Huatulco lies on the southern Pacific coast of the state, along a series of spectacular sandy bays with clear waters and is a beautiful place to spend a few days.
Crammed full of rich cultural tradition, Yucatán is a delight for any culture lover.  Its charmingly seductive colonial cities boast beautiful, renovated historic centers where perfectly restored pastel colored buildings line cobblestone streets and museums, cathedrals, gourmet restaurants and delightfully restored boutique hotels abound.   Nearby, world-class ancient Mayan cities tucked away in the jungle, fascinating biosphere reserves, home to hundreds migratory bird species including tens of thousands of flamingoes and an idyllic offshore island, where the opportunity to swim with Whale Sharks in the Summer months make this region so wonderfully diverse.  Traditional Mayan villages where you are as likely to hear indigenous languages being spoken as you are Spanish and one of the world's most spectacular coastlines, with sugar like sand and jade-green water make Yucatan an enchanting place to visit.  Far from the hordes of package vacation tourists who see none of this, you will feel like you have been let in on the greatest secret ever told.


Prices listed above are per person for a private tour based on two people traveling in low season sharing a room in Luxury category hotels.
Hotels listed above are given as suggestions only to illustrate the standard of hotels used.

Price Includes:

All hotels as described in the itinerary
Services of Blue World Journey's representatives while in Mexico
All transportation as described in the itinerary in a private air-conditioned vehicle with an English speaking driver / guide
Private sightseeing and entrance fees
Meals as described in the itinerary
Bottled water in the vehicle during all transfers

Price Excludes:

International flights
Travel insurance
Meals other than those listed in the itinerary
Gratuities for guides and drivers
Sightseeing other than described in the itinerary
Additional room charges of a personal nature in hotels (eg: room service, laundry, phone calls, etc.)