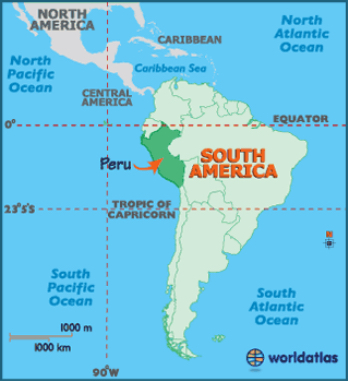 A Peru vacation is something that should be on every traveler's bucket list. There are an amazing variety of attractions here and the country is packed with things to do.
The first impressions of the Spanish when they sailed down the coast in 1528, involved savage cannibals and barren beaches. It was not until they crossed through the arid deserts that they discovered an amazing land filled with history and natural wonders, from the snowy Andes Mountains to the steaming jungles of the Amazon. Populated by brightly dressed Quechua people, the Spanish found Peru to be home to a rich, diverse culture with human civilization dating back thousands of years.
The third largest country in South America, Peru lies entirely within the tropics. There are three distinct geographical regions in the country – a mostly arid coastal belt, the spectacular Andes Mountains and the steamy Amazon rainforest. The majestic Andes rise from sea level on the Pacific coast to over 18,000 feet just 60 miles inland.
A highlight of any Peru vacation is the Sacred Valley, considered by the Inca to be paradise due to the richness of its fertile earth. Here, the Inca built their most sacred sites, including the spectacular, world-renowned site of Machu Picchu. This fabled 'lost city' occupies a breathtaking location high in the mountains along a rainforest-covered ridge. Getting here is half the fun, either via a train journey filled with incredible scenery or for the more adventurous, by hiking the multi-day long Inca Trail.
The colonial city of Cusco is one of Peru's most beautiful, maintaining an interesting mixture of Inca and Spanish cultures. Its stylish boutique hotels and wide choice of restaurants make it a great base for a few days of sightseeing in the Sacred Valley.
No Peru vacation would be complete without seeing the impossibly blue Lake Titicaca, the highest navigable lake in the world. Feeling more like an ocean than a lake, Titicaca is home to placid shores and a number of islands where you will find welcoming people, whose way of life revolves around the tótora, or reed, which they cut and pile to form giant floating islands that are anchored to the shallow lake bottom.
The mysterious Nazca Lines have to be seen to be believed. A short sightseeing flight is the best way to accomplish this. When seen from above, more than 70 giant plant and animal figures appear into view, etched into the desert floor over 2000 years ago, along with hundreds of straight lines, trapezoids and other figures as long as 6 miles.
The nearby Paracas Peninsula is a must-see for nature lovers. Nicknamed 'Ecuador's Galapagos', this region is home to a large variety of seabirds, sea lions and the endangered Hubmoldt Penguin.
Peru is an amazing destination, with something for everyone. Check out our fascinating, creative sample itineraries below.

We specialize in tailor-made Peru vacations.

All of our tours of Machu Picchu and Peru can be customized to your requirements – here are some tour ideas to inspire you on your Peru vacation.

Please click on any tour for detailed information

Prices listed above are per person for a private tour based on two people traveling in low season sharing a room in Luxury category hotels.
Hotels listed above are given as suggestions only to illustrate the standard of hotels used.

Price Includes:

All hotels as described in the itinerary
Services of Blue World Journey's representatives while in Peru
All transportation as described in the itinerary in a private air-conditioned vehicle with an English speaking driver / guide
Private sightseeing and entrance fees
Meals as described in the itinerary
Bottled water in the vehicle during all transfers

Price Excludes:

International flights
Travel insurance
Meals other than those listed in the itinerary
Gratuities for guides and drivers
Sightseeing other than described in the itinerary
Additional room charges of a personal nature in hotels (eg: room service, laundry, phone calls, etc.)