Peru Highlights
Two of Latin America's most exciting destinations are feature on this amazing journey of a lifetime. Peru's iconic Machu Picchu is a site that no true world traveler should miss. Coupled with the beautiful Sacred Valley, the colonial city of Cusco and the brilliant blue waters of Lake Titicaca, you will see the best Peru has to offer.
Leaving Peru, you will fly to Ecuador's world-famous Galapagos Islands for an unforgettable cruise on a luxury vessel, where you will experience close-up wildlife encounters that are impossible anywhere else in the world.
Detailed Itinerary
Day 1 - Welcome to Peru (-)
Upon arrival at Lima's Jorge Chavez International Airport you will be warmly welcomed by a Blue World Journeys representative and escorted to your hotel by private car. You'll probably be tired after the long journey, so enjoy the evening in your hotel, or if you have the energy, explore the local area, home to some of Lima's best restaurants and nightlife.
Day 2 - Lima City Tour, Fly to Cusco (B)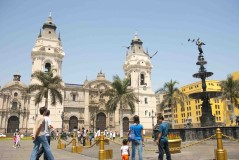 After a leisurely breakfast in your hotel, you will be met by your guide and escorted on a half day city tour of Peru's capital. This highlight is Lima's Historic Center, where the city's most important historical, political and religious buildings can be found. Certified by UNESCO as a World Heritage Site, the historic center features beautiful and unique architecture. The Art Museum, The Palace of Justice and The French Palace are truly awe inspiring. The Plaza San Martin is home to an important monument that was constructed to celebrate Peru's independence. Nearby, the Cathedral, the City Hall, the Archbishop's Palace and the Palace of the Government overlook the huge Plaza Mayor. You will have time to walk around this lovely square before driving to the airport to board your afternoon flight to Cusco.
This evening take things easy as you acclimatize to Cusco's 11,400-foot elevation and try one of the many great restaurants the city has to offer.
Day 3 - Sacred Valley Tour (B,L)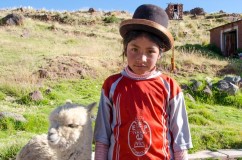 As Cusco was considered to be the navel of the world by the Inca, the Sacred Valley was its breadbasket and the river Urubamba (one of the headwaters of the Amazon) that flows through it the lifeblood. This is and astonishing and beautiful valley. Its warm climate and sun baked, red granite hills have always been ideal for agriculture, and being lower than Cusco, it's a welcome respite from the altitude as you acclimatize. We begin our tour at the artisan market town of Pisac, where you will be able to shop for local souvenirs if you wish. A visit to Ollantaytambo, an important Inca archaeological site follows, before touring through Chinchero, an Andean village located on a high plain with lovely views over the surrounding mountains, and known to the Incas as the birthplace of the rainbow.
Day 4 - Machu Picchu (B,L)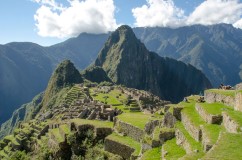 An early start is necessary today for an unforgettable trip to one of the most spectacular historical sites anywhere in the world. You will be escorted to the train station a short drive outside Cusco before boarding your luxurious 'Vistadome' train (ultra-deluxe Hiram Bingham train upgrade available) for the three-hour journey to the town of Aguascalientes. After lunch on arrival you will enjoy a private, guided 3-hour tour of the spectacular ruins. Machu Picchu has to be seen to be believed. It retains an awe-inspiring grandeur and add the genius of Inca architecture built in perfect harmony with the earth and skies, and it's no surprise that it's officially among the New Seven Wonders of the World. Following this unforgettable tour, you will return by train to Cusco.
Day 5 - Cusco City Tour, Afternoon at Leisure (B)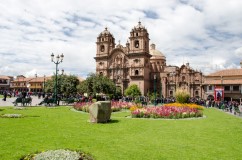 This morning you will have a private, guided tour of Cusco. Known by the Inca as the navel of the world, this city has great significance in Inca history and is the site of many interesting attractions. Your tour will include the Plaza de Armas, overlooked by the city's baroque cathedral, the temple and church of Coricancha, where the foundations of the Inca Sun Temple, once covered with plates of solid gold are now the site of a Dominican church; as well as the ruins of Sacsayhuaman, a fortress of huge stone blocks weighing hundreds of tons that was the scene of the Inca's final battle against the Spanish in 1536. This afternoon and evening will be at your leisure to enjoy the city, a delight to stroll around the streets and admire the colonial architecture.
Day 6 - Andean Explorer Train to Lake Titicaca (B,L)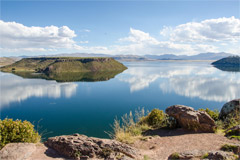 Today you will have the unique experience or riding the deluxe Andean Explorer train to Lake Titicaca. During the journey you will witness the changing landscapes from high mountains, through valleys and passes and finally to the altiplano of eastern Peru, home to the stunning Lake Titicaca.
The train has been mentioned by the Society of International Railway Travelers as one of the best rail journeys in the world. Decorated in the style of the great Pullman cars of the 1920s, the Andean Explorer is a very luxurious train featuring five star dining in exquisite dining cars, as well as a beautifully furnished indoor/outdoor observatory car from which you will be able to enjoy the splendor of the Andean scenery on this ten hour journey. A full lunch is served en-route, as well as afternoon tea and entertainment including a fashion show of local clothing.
Day 7 - Lake Titicaca Cruise (B,L)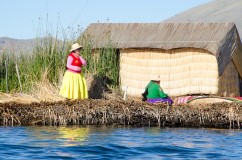 Another unforgettable day awaits as you explore the world's highest navigable lake. Titicaca seems more like an ocean than a lake, as the intensely blue waters, up to 800 feet deep stretch to the far horizon punctuated by the snowy peaks of Bolivia's Andes on the far side of the lake.
Today's tour begins with a short boat ride to the unique floating islands of Uros. These islands are made of tótora (reeds), which are cut and piled up to form giant floating islands that are anchored in the shallows of the lake. There are hundreds of these, each inhabited by one to several families, surrounded by spectacular scenery. Another hour by boat from here is the island of Taquile, where you will enjoy a rare glimpse into the lives of the indigenous people who inhabit this island, and whose craft is a unique and intricate style of weaving. Returning to your hotel in the late afternoon, you will have the evening at your leisure.
Day 8 - Fly to the Galapagos Islands (B,L,D)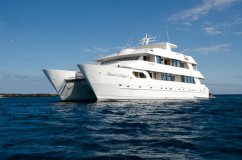 This morning you will be escorted to Cusco's airport for your flight to Lima, connecting to your international flight to the Galapagos Islands.
Upon arrival you will be escorted to your luxurious Galapagos Islands cruise vessel to become acquainted with your cabin and other travelers on board.
Afternoon: Cerro Colorado: Giant Galapagos tortoise breeding center. Degree of difficulty: easy.
Day 9 - Española: Gardner Bay - Punta Suarez (B,L,D)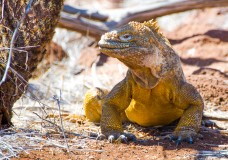 Morning: Gardner Bay: Sea lions in great quantities. Large numbers of both resident and migratory birds.
Afternoon: Punta Suarez: Sea lions, marine iguanas, blue-footed boobies, Nazca boobies, Darwin finches, Galapagos hawks, albatrosses, lava lizards and herons. Degree of difficulty: moderate
Day 10 - Floreana: Post Office Bay - Punta Cormorant (B,L,D)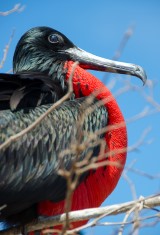 Morning: Post office bay: Whaling Captain James Colnett established the wooden post barrel in the early 1793. At the time whaling was a big industry and ships were typically gone for 2 years at a time. As the Galapagos Islands were a frequent stop for these ships, outbound ships would drop off letters after rounding the cape and the ships returning home would deliver them. Degree of difficulty: easy.
Afternoon: Punta Cormorant: Flamingo lagoon and white sand beach for walking and swimming where sea turtles nest from December to May. Degree of difficulty: easy.
Day 11 - Santa Fe - Tortuga Bay (B,L,D)
Morning: Santa Fe: Snorkeling in the rocky coast of the island, to see a variety of fish and sea turtles. Colonies of sea lions, land iguanas, frigate birds, Galapagos doves and lava lizards, giant cacti and Palo Santo trees. Degree of difficulty: moderate.
Afternoon: Tortuga Bay: Perhaps the most beautiful beach in the Galapagos swim and snorkel observing colonies of marine iguanas, pelicans, Darwin's finches, sharks and sea turtles, giant cactus forest. Degree of difficulty: Moderate.
Day 12 - Santa Cruz (B)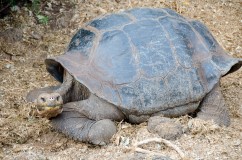 Morning: El Chato: Giant tortoises in the wild, short-eared owls, Darwin's finches, yellow warblers
From here you will drive to Baltra Airport for your flight to Quito to connect with your international flight home.
NOTES
* This is a sample itinerary for a 4 night / 5 day Galapagos Cruise. Exact itinerary may vary depending on vessel and departure day.
** Cruises of other durations (3 nights, 5 nights and 7 nights) are available - contact us for details.
Lima - Luxury - Casa Andina Private Collection
Located in the fashionable Miraflores district of Lima, the Casa Andina has been recently updated in a classic 'Limeño' style and features an exquisite collection of contemporary local artwork.
With 155 modern and luxurious rooms and suites and a fantastic location in the heart of Lima's most vibrant zone, the Casa Andina Private Collection is one of the city's leading four-star hotels.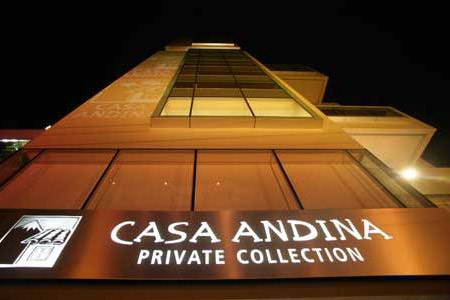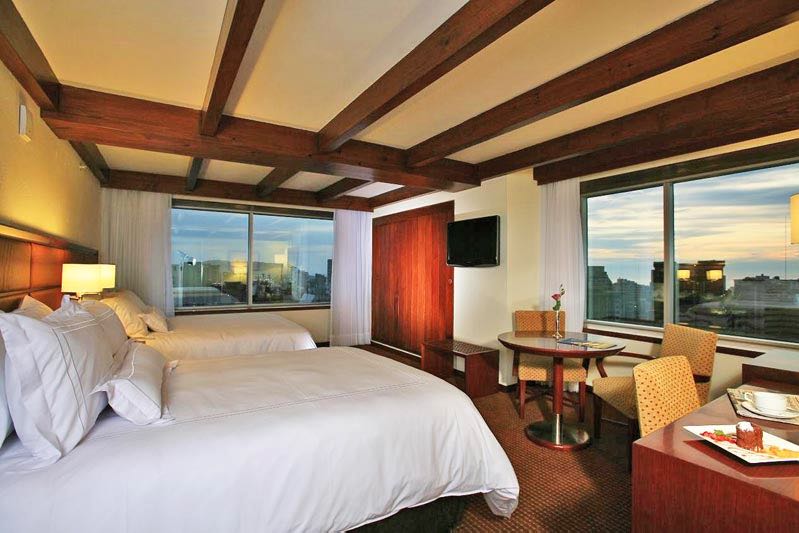 Lima - Deluxe - JW Marriott Lima
Each of the JW Marriott's 300 luxurious guestrooms features a beautiful panoramic view of the Pacific Ocean from the cliffs of Lima's exciting Miraflores district. Housed in an impressive 25-story glass tower, this is one of Lima's most desirable five star luxury hotels, featuring all the amenities and services that travelers have come to expect from this world-renowned chain.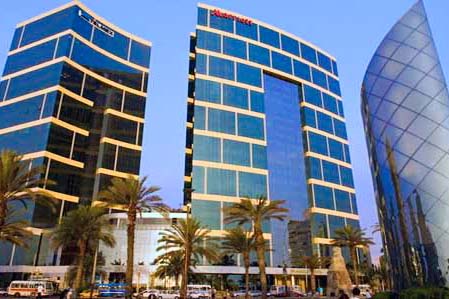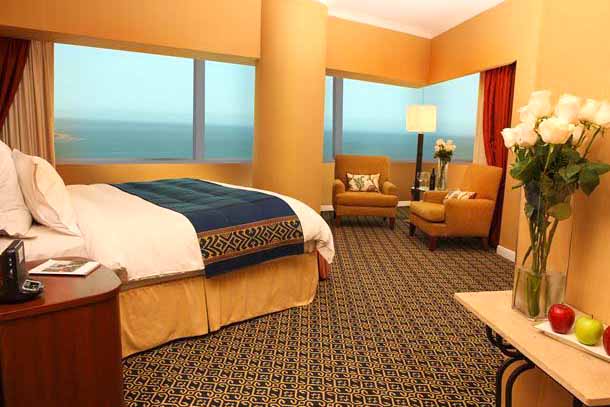 Cusco - Luxury - Casa Andina Private Collection
Housed in a beautifully refurbished 18th century mansion and featuring four lovely colonial courtyards, the Casa Andina is located only a few minutes' walk from the main square. Its 93 tastefully decorated and modern rooms have king size beds and stylish furnishings. This hotel makes an excellent base for visiting Cusco, the Sacred Valley and Machu Picchu.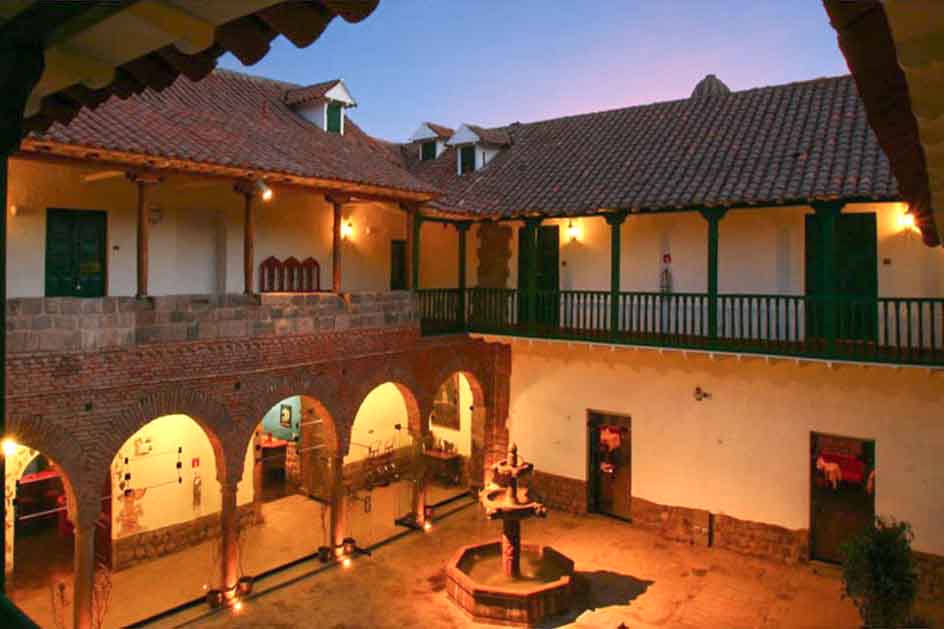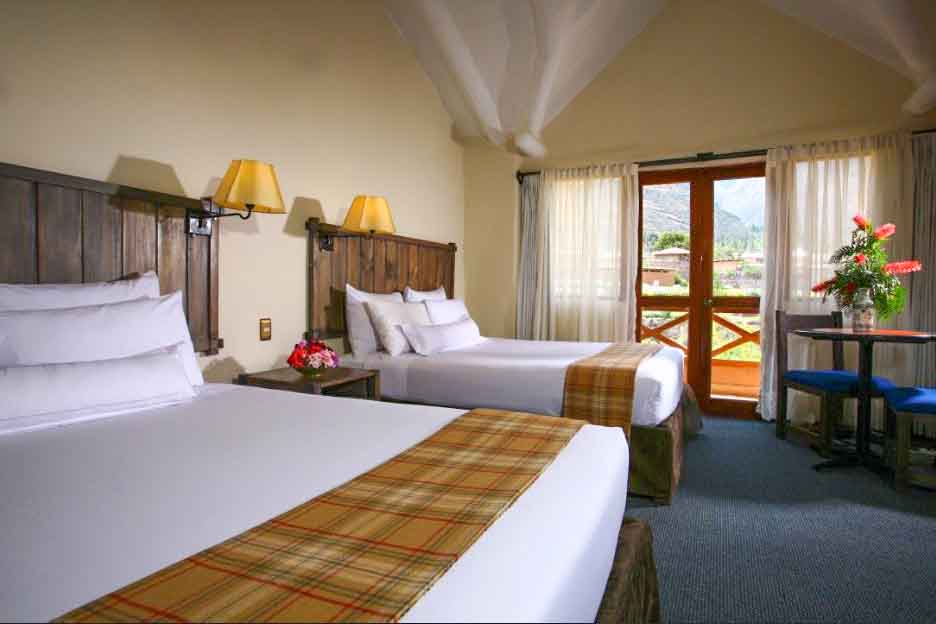 Cusco - Deluxe - Marriott Cusco
One of the highest rated hotels in Peru by our clients; the Marriott Cusco is located mere steps from the city's main square. Built on top of ancient Incan ruins, in a restored 16th century convent, the hotel features 153 luxuriously furnished guestrooms, offering marble bathrooms, courtyard views and sumptuous furnishings.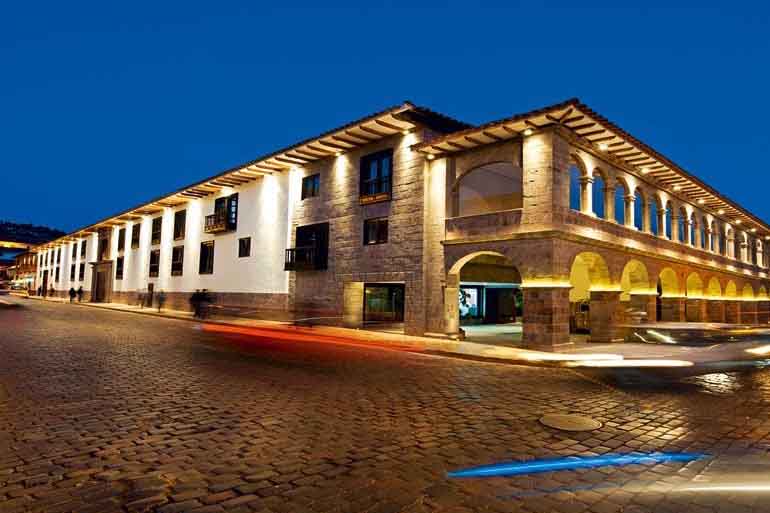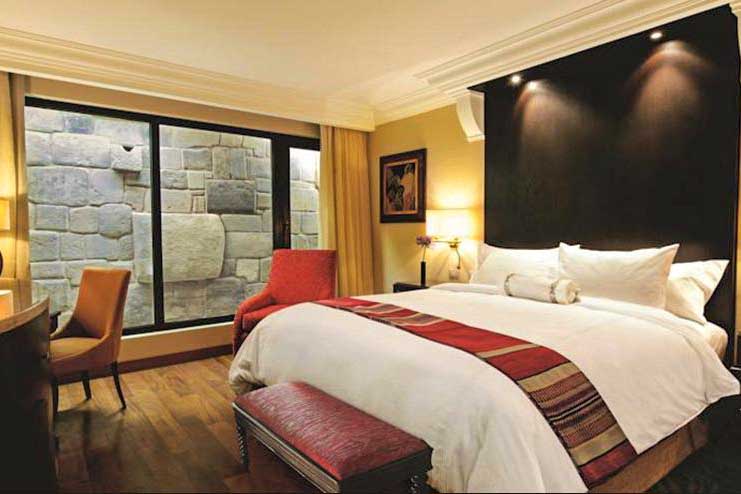 Lake Titicaca - Luxury - Casa Andina Private Collection
Located on the shores of beautiful Lake Titicaca, a short drive from the center of the town of Puno, this intimate hotel offers 45 rooms, many with a direct view of the lake. Its peaceful location makes for a great base for visiting the highlights of the area.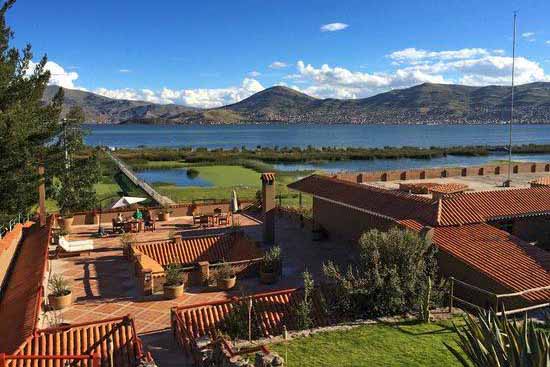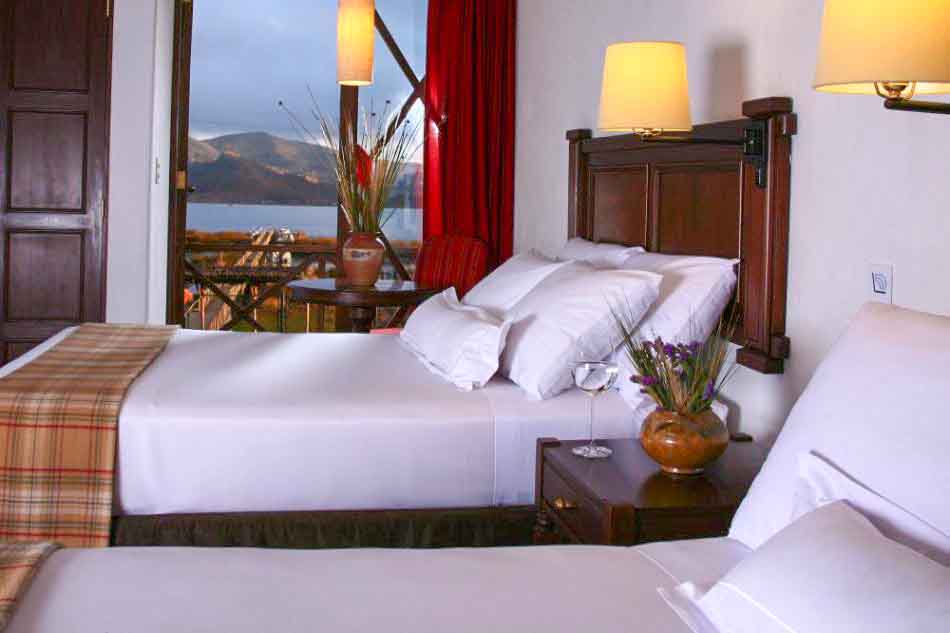 Lake Titicaca - Deluxe - Libertador Lago Titicaca
Located on a private island connected to the mainland via a causeway, the Libertador is Puno's leading hotel. With unrestricted lake views from all over the hotel, sunrises and sunsets here are unforgettable. The hotel's 123 modern guestrooms feature spectacular views over the lake, and the hotel's location offers guests a high level of privacy.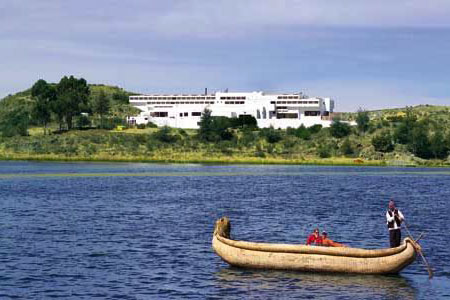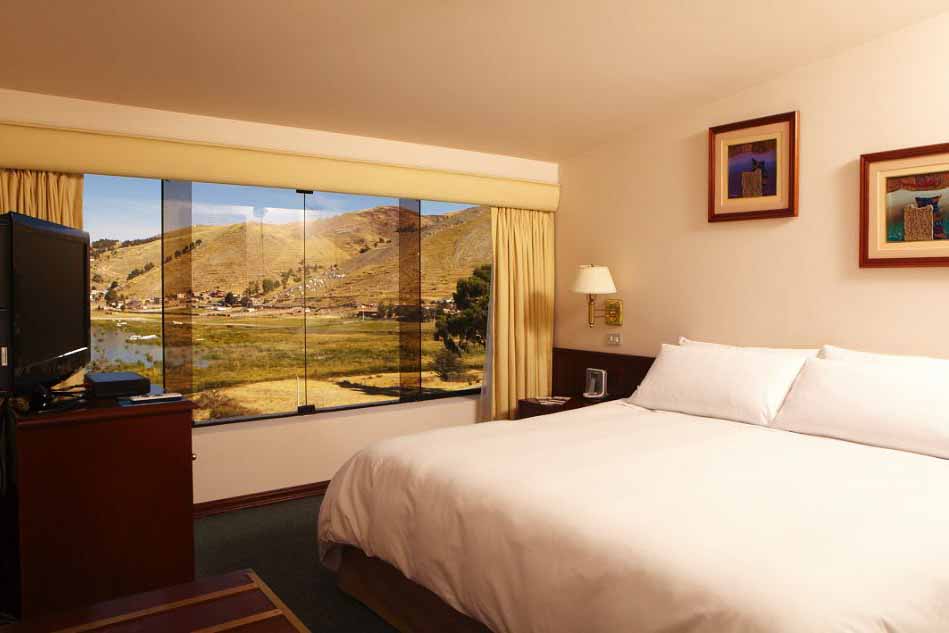 Pricing
Price From $5995 per person (Luxury Hotels), or $6495 per person (Deluxe Hotels), for a private tour based on two people traveling in low season sharing a room.
Hotels listed on the Hotels Tab are given as suggestions only to illustrate the standard of hotels used.
Price Includes:
All hotels as described in the itinerary
Services of Blue World Journey's representatives while in Peru
All transportation and tours as described in the itinerary in a private air-conditioned vehicle with an English speaking driver / guide
Domestic flights Lima - Cusco, Juliaca - Lima and Quito - Galapagos - Quito
Luxury Vistadome train to/from Machu Picchu
Deluxe Andean Explorer train from Cusco to Puno (Lake Titicaca)
5 day luxury Galapagos cruise
Sightseeing and entrance fees
Meals as described in the itinerary
Price Excludes:
International flights
Travel insurance
Meals other than those listed in the itinerary
Gratuities for guides and drivers
Sightseeing other than described in the itinerary
Additional room charges of a personal nature in hotels (eg: room service, laundry, phone calls, etc.).
UPGRADES / EXTENSIONS
Hiram Bingham Deluxe Train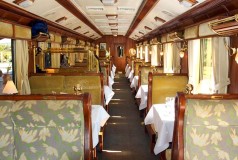 One of the great railway journeys of the world, the Hiram Bingham train is named after the explorer who rediscovered Machu Picchu in 1911.
For many people a visit to Machu Picchu is an unforgettable journey of a lifetime. Traveling between Cusco and Machu Picchu on the Hiram Bingham is truly an amazing experience. With accommodations for only 84 passengers, the train is decorated and furnished in the style of 1920s Pullman carriages, with large, comfortable chairs and polished brass and wood paneling. The two dining cars are luxurious areas set with fine crystal and silverware, where you will enjoy a gastronomic dinner prepared by a team of on board chefs.
A bar car is a great place to enjoy a cocktail accompanied by live Peruvian music and dance, while the observation car is a perfect place to get comfortable in one of the large cushioned seats as the majestic Peruvian landscape unfolds before you.