Top 5 Hot Springs in New Zealand
If you ever find yourself in New Zealand sometime in the near future and you are a hot spring enthusiast, let this be your guide. Featured below are our top five most diverse hot spring locations including something for every type of hot spring-soaker.
# 5 Hell's Gate Mud Pools & Sulfur Spa- Rotorua
"Where the center of the Earth meets the sky," Hells Gate has an otherworldly landscape that will make you think twice about which planet you are on. Ruomoko  – Maori god of volcanic activity blesses the land with warm, healing waters from beneath the ground. Allegedly, Maori warriors used these pools to heal their battle wounds. This geothermal site has been used for its rejuvenating properties for over 800 years. Today, it is a full-access spa and mud bath for all visitors from all walks of life.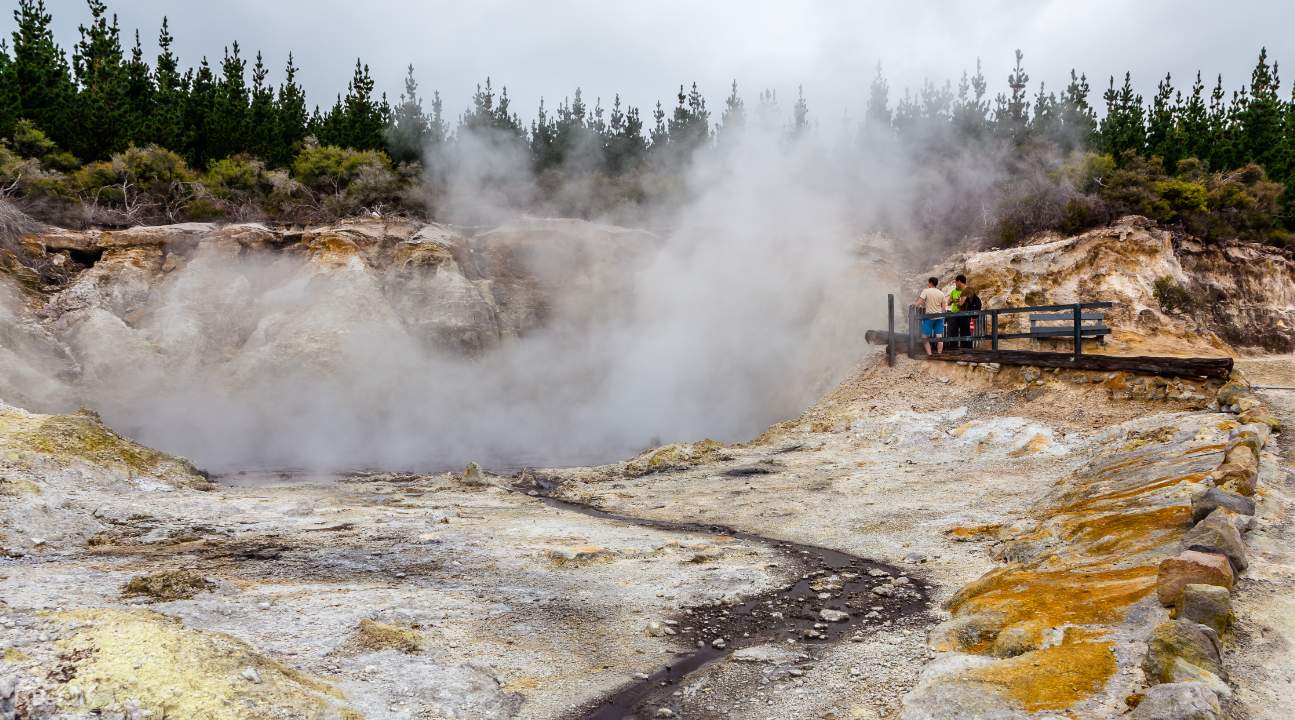 #4 Polynesian Spa – Rotorua
In the heart of the North Island, on the banks of Lake Rotorua sits a historical site with unfathomable beauty. The Polynesian Spa was built in the 1800s so this luxurious spa has historical roots. It is looked after by the Maori people, who consider themselves the guardians of the geothermal resource. Each hot spring in this area is named and looked after by the Maori people.
If you are looking for a luxurious spa experience, this is the hot spring to visit.
#3 Glacier Hot Pools – Franz Josef
Another spa-like hot springs experience exists in the center of Franz Josef. Franz Josef is famous in New Zealand for its bright blue glaciers and extreme terrain. The surrounding area is lush temperate rainforest. Take a dip in one of three natural hot springs at the base of the glaciers, a perfect post-glacial adventure trip.
#2 Kerosene Creek – Rotorua
For a more primitive experience, take a quick walk down to Kerosene Creek, a geothermal river. A few miles off of State Highway 5 towards Taupo, you will be overwhelmed by mountainous beauty and mysterious rainforest. This swimming hole is heated by localized geothermal activity. The best part about this site? It's completely free.
#1 Welcome Flat Pools via Copeland Track – Copeland River
This hot spring is number one on our geothermal bucket list. This is the ultimate adventure for the hot spring enthusiast who wants an "off the beaten path" type of experience. This hot spring is secluded along the Copland Track hiking trail. It is a 5-7 hour hike in so camping there is highly encouraged. The endless views of jagged mountains with snowy peaks accompanied by the warm waters of the spring is the backpacking trip of a lifetime. Get ready to relax your tired legs and bathe in the mineral-rich mud. This is the ultimate hot spring excursion in New Zealand!