Colonial Charm
Nicaragua is home to two of Central America's most fascinating, atmospheric colonial cities, León and Granada. You will enjoy the delights of these cities, soaking up the history and splendor of the architecture while enjoying gourmet cuisine in modern restaurants. Artists, poets, writers, composers and architects, both old and modern, know León as Nicaragua's intellectual hub. It is one of the oldest Spanish cities in the Americas and boasts Nicaragua's most authentic colonial experience. Granada is a beautiful city, full of history and culture and conveniently located in a part of Nicaragua full of natural and cultural attractions that make easy day-trips from the city, allowing time each evening to enjoy this lovely city at your own leisure. The last two days will be spent on Lake Cocibolca's fascinating Ometepe Island, a lush natural paradise island of perfectly conical twin volcanic peaks.
Detailed Itinerary
Day 1 – Arrive in Nicaragua (-)
Upon arrival at Managua airport, you will be warmly welcomed by one of our representatives and escorted to your stylish hotel in León (approximately 2 hours drive).
Day 2 - Leon City Tour, Juan Venado Nature Reserve (B)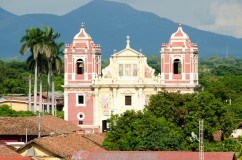 After awakening in your stylish colonial hotel, you can enjoy a leisurely breakfast before being escorted on a morning tour of León. This was one of Central America's first cities, full of history and delightful colonial architecture and has a vibrant, bustling atmosphere. After visiting the city's fine museums, and some of the 12 historic churches in the city center, a walk through Barrio Subtiava, a pre-Columbian village neighborhood is a fascinating insight into the soul of this lovely city. This afternoon you will take a private guided boat tour of Juan Venado Nature Reserve, an offshore island teeming with marine animals and over 106 bird species. This evening, enjoy a stroll through the city, and sample some local cuisine at one of the city's fine restaurants.
Day 3 - Isla de Ometepe (B)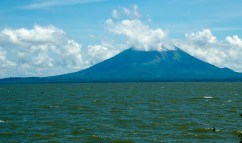 This morning after breakfast you will drive approximately three hours through Nicaragua's lush volcanic countryside to the town of San Jorge on the shores of Lake Cocibolca to take a ferry to the island of Ometepe. Ometepe is an island of perfectly formed twin volcanic peaks, 6 miles into Lake Cocibolca, Central America's largest lake, at 3,300 square miles. It is an ecological jewel of unspoiled nature and a lovely place to spend a couple of days. After a leisurely breakfast this morning, you will be driven to the port town of San Jorge and then travel by boat to the island where you will be escorted by 4X4 vehicle to your hotel for one night. Depending on your level of interest, you can enjoy a horseback trek around the island, or a kayak tour up a river under the shade of the forest canopy, spotting kingfishers, white herons, turtles and caimans (crocodiles). Swimming in a crystal clear natural stone pool set in a gorgeous botanical garden, surrounded by the call of monkeys in the treetops and the blur of colorful tropical birds flying by is a relaxing alternative, or for the really adventurous, mountain bike tours around the island, and hiking to the summit of 4,500 foot Maderas Volcano are easily arranged. Alternatively, you can simply enjoy the relaxed atmosphere of the beach and surroundings of your hotel and visit the small but interesting and welcoming villages around the island for a colorful insight into rural Nicaraguan life.
Day 4 – Isla de Ometepe, Transfer to Granada (B)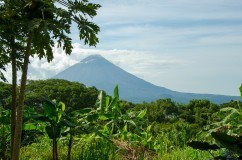 This morning, after awakening to the peaceful sounds of nature surrounding your island hotel, you will continue your tour of the small, but fascinating ecological treasure of Ometepe. Again, depending on your level of interest, you will enjoy a private tour of the island before returning to San Jorge by ferry and driving the short distance to Granada.
Day 5 – Granada City Tour, Afternoon at Leisure (B)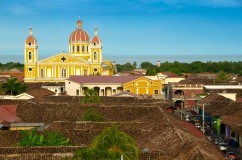 After enjoying a leisurely breakfast in your hotel, you will be given a private horse-drawn carriage tour of Granada – Nicaragua's finest colonial city. Granada, founded in 1524, is a wonderful place to spend the next few days. Full of colonial splendor, it boasts beautiful architecture, a network of narrow cobbled streets, red tiled roofs and a lovely lakeside setting on the shores of Lake Cocibolca. You will have the opportunity to visit the beautiful La Merced church, where you can climb the bell tower for the best view over the city before visiting the Casa de los Leones, a colonial era home whose lush interior has been transformed into an interesting international cultural center. The San Francisco Convent is set around open courtyards festooned with palm trees and centuries' worth of priceless artwork is another fascinating stop on this morning's tour. Granada is a very picturesque city that has been painstakingly restored and the colorful building facades practically glow in the sultry and tropical late afternoon sun. This afternoon will be at your leisure to enjoy the delights of this lovely city.
Day 6 – Masaya, The Pueblos Blancos (B,L)
The nearby town of Masaya is Nicaragua's epicenter of handicrafts. Its clean, neat, sprawling marketplace is the best place in the country to shop for excellent quality hammocks, painted, carved gourds typical of this region, woven mats, ceramics and pottery, wood carvings, leather and textile goods and colorful woven basketry. You will have plenty of time here to practice your haggling skills. Even if you don't buy anything here, it's still an enjoyable experience. Your afternoon will be spent visiting the delightful Pueblos Blancos, a series of pretty villages, each known for something in particular – wickerwork, bamboo craftwork, folk dancing, black magic, or simply one of the best views in all of Nicaragua from the cliffside walkway in the town of Catarina.
Day 7 – Las Isletas, Mombacho Volcano (B)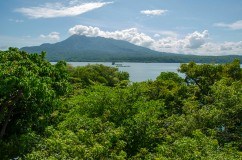 Las Isletas is an archipelago in Lake Cocibolca, close to Granada comprised of over 100 islands of varying size. The best way to experience this fascinating archipelago is on a private boat tour of the area where you can appreciate the many beautiful islands and pristine landscapes of this region, meeting local islanders, watching children paddling dugout canoes to school on a neighboring island and stopping off for a refreshing drink at one of the mellow island bars before continuing your tour. For the more active, this tour can easily be accomplished by kayak instead of by motorboat. Following lunch, you will be driven the short distance to the Mombacho Volcano. Towering over Granada, this beautiful park has well maintained hiking trails and is overgrown with hundreds of orchid species. There are over 1000 howler monkeys here that you will see from two well maintained, one mile and two and a half mile long easy hiking trails with an amazing view over the lake and city. You can also enjoy a bird's eye view of the forest on a 1-mile long canopy tour or try your hand at horseback riding or walking an easy bird watching trail.
Day 8 – Farewell to Nicaragua (B)
This morning your driver will meet you at your hotel from where you will be driven by private vehicle to Managua airport to check in for your international flight home.
Hotels listed below are given as suggestions only to illustrate the standard of hotels used. 
Leon - Luxury - La Perla (Deluxe Room)
Leon - Deluxe - La Perla (Suite)
Hotel La Perla is located is located in the heart of Leon just 11 miles from Nicaragua's pacific coast. The hotel's architecture displays some of the finest examples of the neoclassical style in Nicaragua. Fountains dominate the lovely central courtyard, typical of this style of colonial construction, with magnificent marble lions hand carved especially for the Hotel. The 15 rooms and suites are all modern, stylishly furnished and serve as an excellent base during your stay in this part of Nicaragua. Wireless internet is available throughout the hotel and the delightful courtyard pool is a perfect place to cool off during Leon's hot afternoons.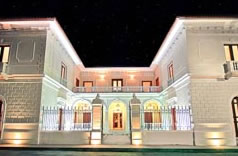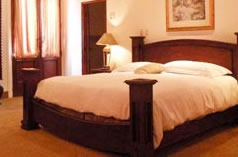 Isla de Ometepe - Luxury - Xalli Beach Hotel
Isla de Ometepe - Deluxe - Xalli Beach Hotel
Xalli is an elegantly refurbished 7-room hotel located beach-front along the sandy isthmus connecting Isla de Ometepe's two spectacular volcanoes. The hotel´s facilities offer guests a high level of comfort and convenience and their dedication to personalized service combined with their expert knowledge of the island allows you to play hard and rest easy. The hotel´s restaurant focuses on offering delicious nutritionally balanced meals maximizing the use of organic and locally sourced fresh produce. Amenities include WIFI access, room service, laundry, parking and a wonderful beachfront location.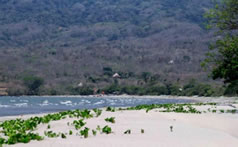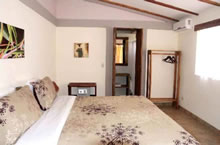 Granada - Luxury - Plaza Colón (Superior Room)
Granada - Deluxe - Plaza Colón (Suite)
The elegant and luxurious Hotel Plaza Colón is a beautifully refurbished colonial house overlooking Parque Central (Central Park). Combining modern amenities with colonial architecture, all rooms have air-conditioning, cable TV, fans, wifi and minibar. Suites feature a large terrace, offering great views of Granada's main plaza and the colorful cathedral. The hotel has a fantastic location right in the center of Granada, where guests can experience life in in the city's main square. In the shaded evergreen patio located in one of the hotel's beautiful internal courtyards, guests can enjoy a refreshing swim in the hotel's beautiful pool.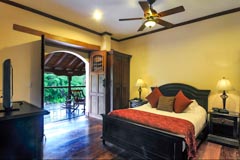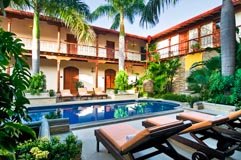 Pricing
From $2795 per person (Luxury Hotels) or $3295 per person (Deluxe Hotels), for a private tour based on two people traveling in low season sharing a room.
Hotels listed on the Hotels Tab are given as suggestions only to illustrate the standard of hotels used. 
Price Includes:
All hotels as described in the itinerary
Services of Blue World Journeys's representatives while in Nicaragua
All transportation as described in the itinerary in a private air-conditioned vehicle with an English speaking driver / guide
Private sightseeing and entrance fees
Meals as described in the itinerary
Bottled water in the vehicle during all transfers 
Price Excludes:
International flights
Travel insurance
Meals other than those listed in the itinerary
Gratuities for guides and drivers
Sightseeing other than described in the itinerary
Additional room charges of a personal nature in hotels (eg: room service, laundry, phone calls, etc.).