Yucatan's Cultural Highlights
Crammed full of rich cultural tradition, the Yucatan Peninsula is a delight for any culture lover. With charmingly seductive colonial cities where you will stay in spectacular 4 and 5 star boutique hotels, to the world-class ancient Mayan cities tucked away in the jungle, the region is wonderfully diverse. This tour will show you a fascinating insight into Yucatan's most culturally rich highlights, a journey into real Mexico – an amazing place full of history and tradition where you are as likely to hear Mayan dialects being spoken, as you are Spanish. We will share with you some of the most culturally rewarding places on the peninsula, deeply rooted in Mayan tradition. Cultural travel is what we do best at Blue World Journeys, so let us be your guide to this wonderful part of the world.
Detailed Itinerary
Day 1 – Arrive in Merida (-)
Fly to Merida, where a Blue World Journeys representative will meet you after you clear immigration formalities and escort you to your hotel.
Day 2 - Merida (B)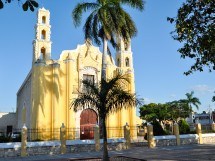 Following breakfast in your hotel, you will take a private guided tour around the city of Merida. This is one of Mexico's finest colonial cities and a real jewel filled with colorful buildings, historic Spanish architecture, narrow, bustling streets and beautiful central plazas. The Plaza Grande in the center of the city is one of the country's prettiest plazas shaded by huge laurel trees and is a hive of activity all day long. After lunch, Merida's finest museum will be visited with the rest of the afternoon to enjoy at your leisure.
Day 3 - Ruta de los Conventos (B)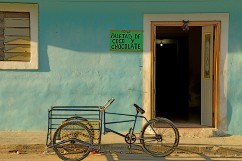 Today you will experience life in the countryside south of Merida, along the delightful 'Convent Route'. This tour will take you off the beaten path into the real Yucatan, away from modern development and will show you what life is like for the modern day Mayans. The route meanders through the west-central part of the state, visiting Mayan villages, archaeological sites, colonial churches, cathedrals and convents. Time for lunch in a local restaurant will give you a taste for the unique and delicious cuisine of Yucatan. This afternoon, a visit to one of the area's restored haciendas will give an insight into 19th century rural life for the elite landowners and the local workers. Tonight, enjoy the sound and light show at Merida's modern Museum of the Mayan World before relaxing to some live jazz in the rooftop terrace bar of your stylish hotel.
Day 4 – Campeche (B)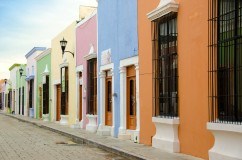 After breakfast this morning, you will depart Merida and drive 1 hour south to Uxmal archeological site. Uxmal is located in the Puuc region, the Maya term for "hill". Puuc architecture is a style found at Uxmal that is characterized by using mosaics to make facades over cement-covered walls and intricate cornices depicting Maya symbols. This ornate style abounds in Uxmal, considered by many to be the finest example of classic Maya architecture, particularly the Governor's Palace. Afterwards you will continue 2 hours south, arrive to Campeche. This UNESCO World Heritage listed city features a beautifully renovated historic center with perfectly restored pastel painted buildings and cobblestone streets and is simply one of Mexico's most attractive cities. The evening will be spent enjoying the city at your leisure.
Day 5 – Campeche (B)
After a leisurely breakfast in your hotel, you will be given a tour of the city center, starting at the Plaza Principal, shaded by carob trees and dating from 1531. Campeche is famous for its almost unbroken 2km long wall, rising up to 24ft high that took over 50 years to build and surrounds the city center. The wall was linked with 8 bulwarks, constructed from limestone from nearby caves. Seven remain and contain a lot of historical artifacts and indigenous handicrafts. They are climbable and offer sweeping views of the city. One of them, Santiago Baluarte, houses a Botanical Garden featuring local plants. La Casa 6 cultural center is in a restored 18th century house and recreates how the city's high society lived in the 19th century. The Archaeological Museum of Campeche and San Miguel Fort house an excellent archaeological museum, a visit to which will complete the tour. You will be free to enjoy the evening at your leisure. As the sun goes down enjoy a drink at La Casa Vieja, a colonnaded balcony restaurant overlooking the Plaza Principal and Cathedral, or some delicious Campechano cuisine in one of the city's fine restaurants.
Day 6 – Izamal, Valladolid (B)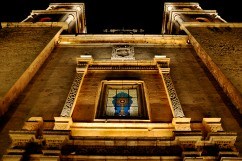 This morning you will be driven to the beautiful, delightful jewel of a colonial town of Izamal. You will be given a tour around the center of the town in a horse drawn carriage to enjoy this pretty Mayan town, where most buildings around the center of town are painted a bright yellow color to match the Convento de Izamal, an 18th century convent. Following time for lunch at the delightful Mayan Restaurante Kinich, a one hour drive will take you to Valladolid, another beautiful colonial city, where you will enjoy the experience of visiting a deeply Mayan town, complete with local women dressed in traditional Huipiles, great Yucatecan cuisine and colonnaded, pastel, stucco and cobbled streets that give Valladolid a unique Spanish feel.
Day 7 – Chichén Itzá (B)
After breakfast in your hotel, your guide will drive you the short distance to the world-famous ruins of Chichén Itzá. Here you will enjoy a guided morning tour around this spectacular 1500-year-old site, featuring the Great Pyramid of Kukulkán, the Great Ball Court and dozens of other fascinating structures and temples. This afternoon, you will be taken to enjoy a refreshing swim in the beautiful Cenote Zamula, a really beautiful cavern pool, complete with large roots hanging down into the water from the roof of the cave - an experience not to be missed
Day 8 – Farewell to Yucatan (B)
A private car will transfer you to Cancun airport (approximately 2 hours) and your flight home.
Hotels listed below are given as suggestions only to illustrate the standard of hotels used. 
Merida - Luxury - Casa Lecanda
Casa Lecanda is a small, luxury boutique hotel located in the historic center of the beautiful city of Merida. Built in a restored 19th century colonial home, the hotel has been designed to maintain its uniqueness with particular attention to architecture, detail and comfort. Lovely patios and courtyards in the house offer a variety of comfortable reception areas for relaxing. Each room is uniquely decorated with custom crafted furniture, original clay tile floors and beautifully restored doors and windows, offering guests the complete experience of the Yucatecan home while providing all the amenities of a contemporary luxury hotel.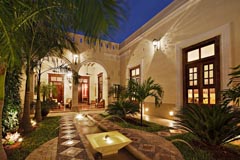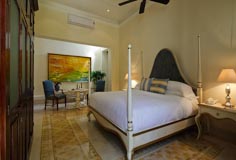 Merida - Deluxe - Rosas y Xocolate
A member of the exclusive Design Hotels International group, Rosas y Xocolate is a uniquely designed, luxurious boutique hotel located on Paseo de Montejo, one of Merida's most exclusive streets a stone's throw from the delightful historic center. Rooms are cool and modern with touches of traditional architecture and lovely bathrooms featuring private, open air showers and bathtubs. The restaurant features excellent Yucatecan and Mexican cuisine, while enjoying a cocktail on the rooftop bar while listening to live jazz playing is a wonderful way to end a day of sightseeing around Merida.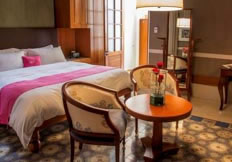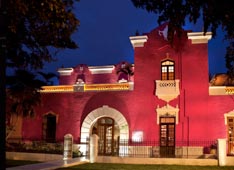 Campeche - Luxury - Don Gustavo Boutique Hotel
With an excellent location on a pedestrian street two short blocks from Campeche's main plaza, this excellent hotel offers luxuriously furnished rooms and suites in a beautifully restored mansion. The rooms overlook a central courtyard and feature modern amenities while maintaining a traditional architectural style. Large walk-in showers and plush mattresses make the air-conditioned rooms an oasis of luxury in the city. The hotel's restaurant serves excellent Campechano cuisine and we are sure you'll agree that this is one of the best places to stay in Campeche's historical center.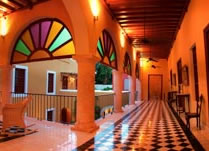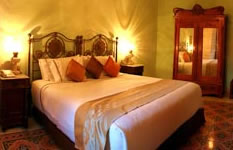 Campeche - Deluxe - Puerta Campeche
A palette of richly chosen colors and an assortment of textures characterize the Hacienda Puerta Campeche. This luxurious hotel is a gem flawlessly displaying a collection of restored 17th century historical houses. Wander through corners of deeply colored yellows and oranges, exploring traditional lifestyle with modern luxuries. Discover the beauty of this colonial hotel along with attentive, personal service. The meandering, one-of-a-kind pool has numerous secret alcoves and flows through the hotel. 15 traditionally decorated guest rooms or suites, fully restored in original buildings feature modern technology and 18-foot ceilings with exposed beams and rafters, comfortable beds, and cool tiled floors. This beautiful hotel is a member of the Starwood Luxury Collection of hotels and offers the finest accommodations in the city.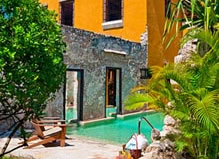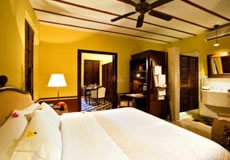 Valladolid - Luxury - Mesón Del Marqués
This stylish hotel is excellently situated on Valladolid's main plaza, in the heart of the city's historic district. Recently remodeled, the hotel features modern rooms and luxurious, spacious suites in a mix of modern and traditional style. Its convenient location allows guests to enjoy the culinary and cultural delights of the city's historic center right outside their doorstep, while the Hostería Del Marqués restaurant offers some of the city's finest dining.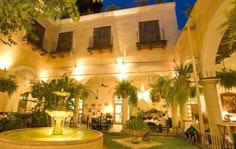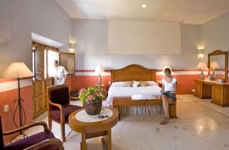 Valladolid - Deluxe - Coqui Coqui
A secluded one-room suite set atop a perfumery, built in the 16th century, Coqui Coqui caters to your senses with the signature scents of their handmade fragrances, creams, oils and candles. The view from the suite over the beautiful tropical garden, a delightful pool and the tailored spa treatments will pamper you during your stay at this unique property. The suite benefits from an excellent location, on the historical, charming Calzada de los Frailes, a few blocks away from the main plaza and walking distance form the silent and secluded Convent of San Bernardino de Siena. As life slows down, your senses will wake up in a new peaceful dimension.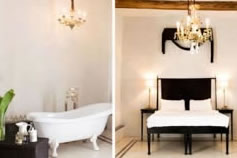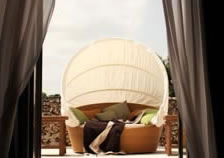 Pricing
From $3995 per person (Luxury Hotels) or $4495 per person (Deluxe Hotels), for a private tour based on two people traveling in low season sharing a room.
Hotels listed on the Hotels Tab are given as suggestions only to illustrate the standard of hotels used. 
Price Includes:
All hotels as described in the itinerary
Services of Blue World Journeys's representatives while in Mexico
All transportation as described in the itinerary in a private air-conditioned vehicle with an English speaking driver / guide
Private sightseeing and entrance fees
Meals as described in the itinerary
Bottled water in the vehicle during all transfers 
Price Excludes:
International flights
Travel insurance
Meals other than those listed in the itinerary
Gratuities for guides and drivers
Sightseeing other than described in the itinerary
Additional room charges of a personal nature in hotels (eg: room service, laundry, phone calls, etc.).